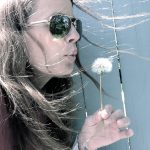 Music has always been an important part of my life. As a young child, I helped my mom clean the house while we listened to John Denver and James Taylor records. As I got older, I started using my allowance to buy my own LPs before switching to cassettes and CDs as a teen, and then converting to digital as an adult.
A couple years ago, I bought a portable record player on a whim, which renewed my love for music on vinyl. My husband later upgraded our equipment and we now have more than 1,000 records from a variety of artists, new and old.
While music has always held a piece of my heart, cooking is a newer love. I'm a novice chef and baker, but I'm learning to make meals from scratch (sometimes without a recipe). No matter what my husband or I are cooking, there's usually a record playing. We've discovered that music and food pair perfectly and dancing around the kitchen makes cooking infinitely more fun.
Home cooking has a lot in common with vinyl. They're both about slowing down, reconnecting with memories, and savoring moments.
This blog allows my husband and I to share our love for music and food with others who care about one or both. I create the recipe, he picks the record, and we often cook together (and our young son also likes to try and help). This is a passion project that keeps me busy when I'm not doing my "real" job of coaching women who own businesses.
Thanks for reading! If you like a recipe, please share it on Pinterest to help us get out the word about what we're doing. Now…
Let's get cooking and rocking!
* Unless otherwise noted, the recipes on this blog are original or amalgams of the many I've tried and modified over time.