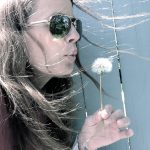 My name is Becky Mollenkamp and music has always been an important part of my life. As a young child, I helped my mom clean the house while we listened to John Denver and James Taylor records. As I got older, I started using my allowance to buy my own LPs before switching to cassettes and CDs as a teen, and then converting to digital as an adult. A couple of years ago, I bought a portable record player on a whim and have since renewed my love for music on vinyl. I'm by no means a music expert or the most hard-core vinyl collector, but my boyfriend and I have nearly 1,000 records from a variety of artists, new and old, and we listen to at least a few nearly every day.
While music has always held a piece of my heart, cooking is a much newer love. I'm a novice chef and baker at best, but I'm quickly developing a passion for making my meals from scratch. After only a year of learning to navigate the kitchen, I'm already getting up the nerve to whip up dishes without following a recipe. Unless otherwise noted, the recipes on this blog are original or amalgams of the many I've tried and modified over time. No matter what I'm cooking, there's always a record playing. I've discovered that music and food pair perfectly and dancing around the kitchen makes cooking infinitely more fun.
Home cooking has a lot in common with vinyl—they're both about slowing down, reconnecting with memories, and savoring moments.
So began Cooking with Vinyl. This blog allows me to share my two greatest passions with others who care about one or both. In addition to offering recipe and record pairings, I share tips on collecting vinyl, review cooking tools, highlight places to buy vinyl, and more. I hope you'll comment on and share posts, sign up for the newsletter for free bonus information, follow the various social sites, and come back frequently to see what's new.
Let's get cooking and rocking!