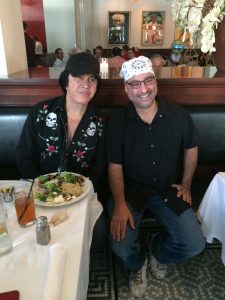 Des Moines is an amazing city. When I sing its praises to people who've never lived in Iowa's capital, however, they tend to look at me like I'm joking, crazy, or a country bumpkin. Ask anyone who has spent meaningful time there and you'll discover I'm not nuts: Des Moines is damn cool. One reason for its awesomeness is George Formaro, the chef behind Centro, Django, South Union Bread Café, Gateway Market & Café, Malo, and Zombie Burger + Drink Lab.
In addition to making most of my favorite food in Des Moines, George is Iowa Nice. When I asked him to do what I hope is the first of many Q&As with awesome chefs, he didn't bat an eye. I hope you enjoy this glimpse into the mind of an amazing chef, and then come back this Friday when I'll share his rich and delicious recipe for Steak Bearnaise.
Q: What role did food play in your childhood?
A: Like many Italian-American families, our gatherings always centered around the kitchen table and talking about food always resulted in the most engaging, passionate and emotional conversations of the evening. When my mother cooked, she didn't hold back. You might think she was cooking for the whole neighborhood rather than just one family. She wanted you to eat until you couldn't possibly eat any more… than take the leftovers home for later! That is precisely why I don't get offended when guests at our restaurants want to split an entrée.
Q: What made you want to be a chef?
A: When I was 12 years old, we took a family trip to Italy, which was unprecedented for us. It was the first time my mom had seen her Italian family for about 20 years. I remember walking walking through the fresh markets and bakeries and realized there was a different way than what I knew back home. Visiting those bakeries every day that summer inspired me to want to cook professionally and bring those pure flavors back home with me.
Q: Describe your food.
A: My food is unapologetically "porn star big." This has been my MO from as far back as I have been cooking. While I enjoy a freakish culinary monstrosity now and again, the generous portions are really rooted in my own upbringing.
Q: Best thing you've ever eaten?
A: A pizza in a small village in Sicily. It had fresh artichokes, olives, and Italian ham with a perfectly charred crust that changed the way I thought about pizza. Since I don't put sweets into the same category as savories, I had a lemon cake in Sorrento, Italy that was a Genoise cake with a vanilla custard and a soft and silky lemon meringue. It was heaven!
Q: Best concert you ever attended?
A: Like my favorite foods, it all depends on the day. So a top list would have to include Iowa Jam 1983 with Accept, Motley Crüe, Night Ranger, Ted Nugent, and Ozzy Osbourne. I saw Frank Sinatra on his birthday, Tony Bennett, the original KISS lineup, Page and Plant, Frank Zappa, The Who, Paul McCartney, the Rolling Stones, and KC and the Sunshine Band. Also, Sammy Hagar's 1981 "Standing Hampton" tour before he was known in DSM. The venue was barely half full. For years, he maintained that it was one of his best concerts ever.
Q: Favorite vinyl?
A: The most used record in my collection is KISS Alive 2. I perfected the air guitar with that album.
Q: What's your go-to music when you're busting ass in the kitchen?
A: I prefer good, old-school rock 'n' roll like AC/DC, Black Sabbath, Van Halen before "1984", Deep Purple, Rainbow, Ted Nugent (I turn a blind eye on that one), Motley Crüe, and, of course, KISS. I get inspiration from nearly everywhere – primarily, I look to the honest foods that lined the bellies of generations before us. But while I enjoy that food history, I even find myself inspired by some unexpected sources including today's pop culture and low-budget horror films.
Q: How do you run a kitchen?
A: Often times, my kitchens exhibit all the passion of a knock down, drag out, in-your-face bocce ball tourney at the Italian festival… and when it's over we all do shots of Strega together. That kind of passion and emotion is translated to what gets put on the plate. My kitchens are more like a bar fight than a museum – or to put it musical terms, my food is like listening to classic rock on an AM radio station rather than a violin in a concert hall. Both are beautiful, just very different!
Q: What's on your food bucket list?
A: Chef Enrique Olvera's Mexico City restaurant, Pujol. Also Chef Martin Picard's Au Pied De Cochon and his Sugar Shack restaurant.
Q: What's the one dish that every home cook should know how to make?
A: Pizza. It can be restrained, sophisticated, and complex. Or basic with all the passion and satisfaction of a hot-and-heavy quickie before you have to leave the house.
Q: At Cooking With Vinyl, we believe food and music go hand in hand. What do you think?
A: You can't be afraid to mix it up. You could be making pasta to Frank Sinatra or cooking a fancy French dinner while rockin' out to Dr.  Love by KISS. Music sets the mood and the attitude I like my food to have. To me, the party starts in the kitchen with the music.