I make no secret that I'm a novice in the kitchen. After two decades of making little more than tacos and spaghetti, I really focused on learning to cook about 2 years ago. My skills have greatly improved, but I have a long way to go before I'd ever feel comfortable claiming some level of expertise. In addition to lots of trial and error on my own, I always thought taking a cooking class would be a great way to gain knowledge.
Thankfully, my wonderful boyfriend heard what I said and signed us up for the "Friday Night Date Night: Warm Winter Tapas" class at the local grocery chain. Schnucks Cooking School offers regular folks a way to learn some new recipes and improve their kitchen skills while having fun and drinking wine.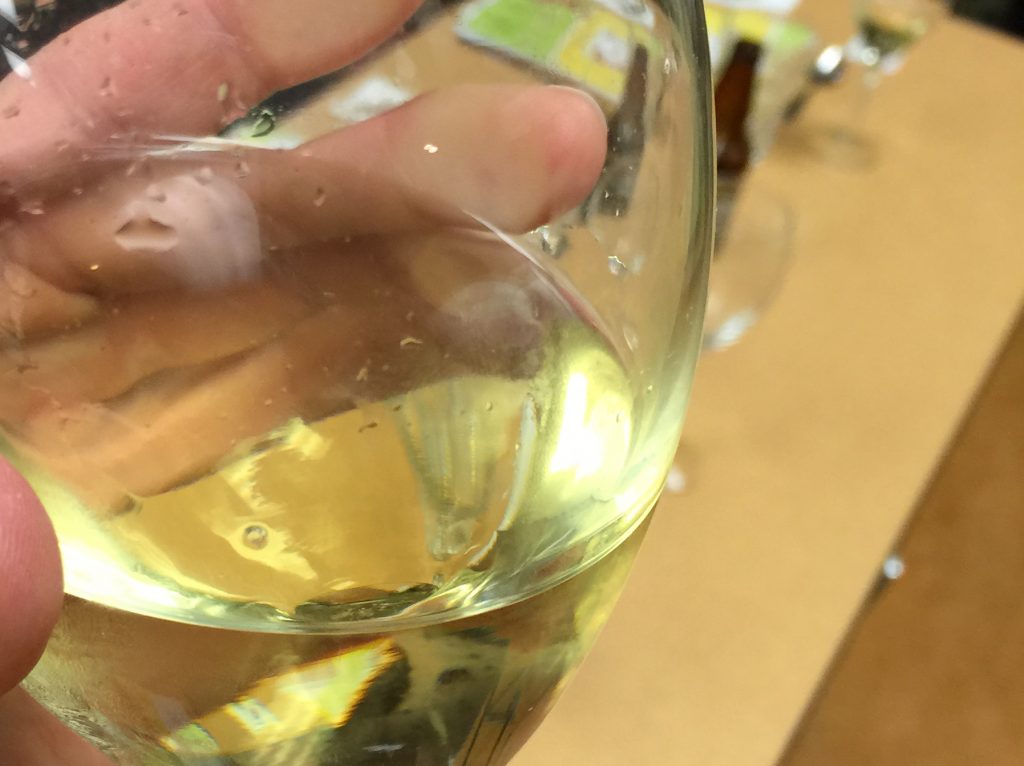 There were eight couples in our class, and we all got acquainted while drinking the provided wine and beer. We then self-selected which of the four recipes we'd prepare (we ended up with two sets of each recipe). I picked the dessert, Poached Pears with Mascarpone Whip (recipe below), because I love desserts and because I'd never poached anything. While he peeled and cored the pears, I prepped the poaching liquid. How can anything that includes an entire bottle of red wine be bad? The answer is, it can't.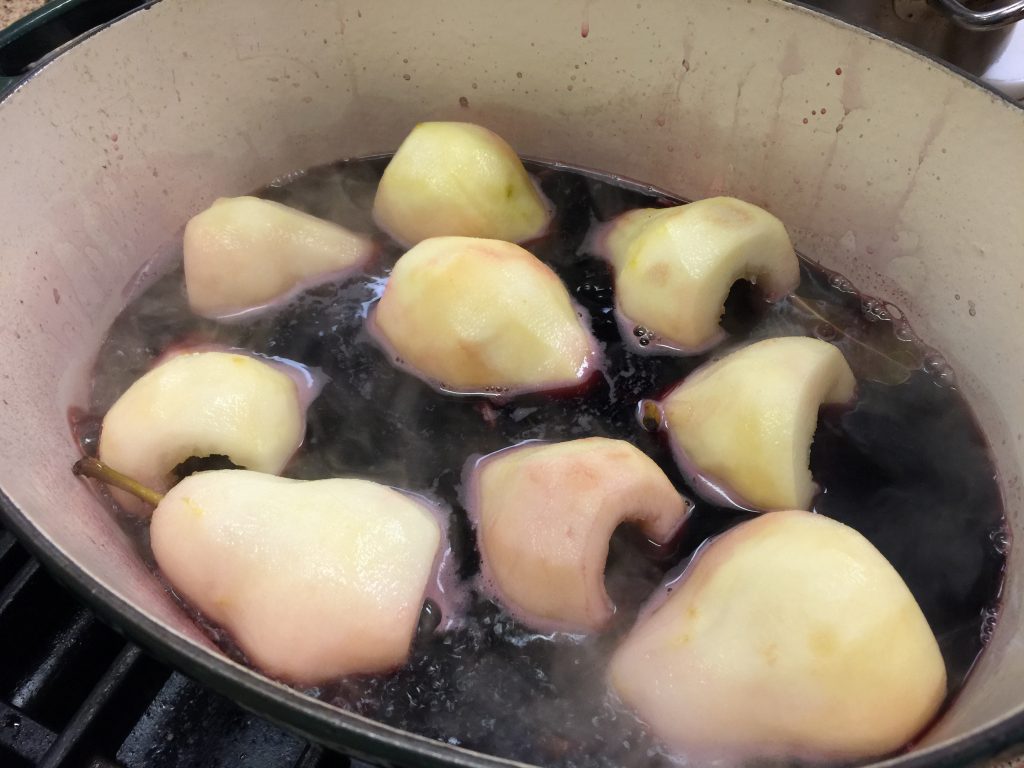 We lucked into a recipe that included a lot of downtime. While the pears soaked, we drank more wine. After a while, we got back to our workstation and mixed up the mascarpone, whipped the cream, and combined them to create the delicious filling.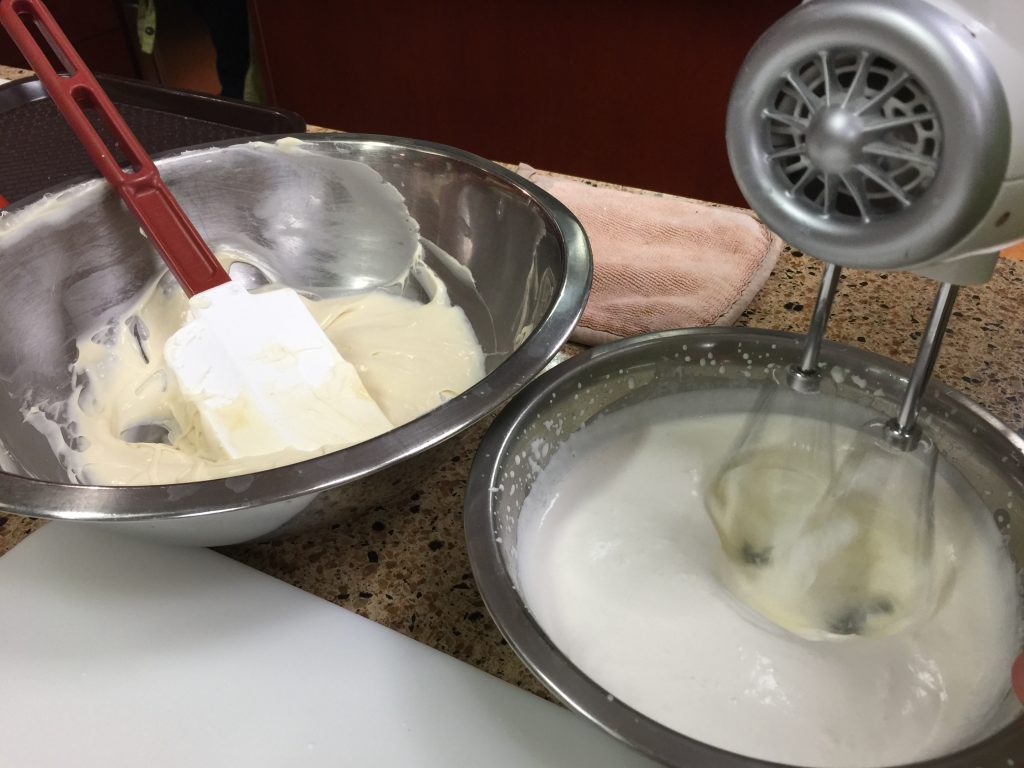 I've never used a pastry bag before (I told you I'm a beginner!), so I had a blast stuffing all of our beautifully poached pears. Aren't they the most gorgeous shade of red?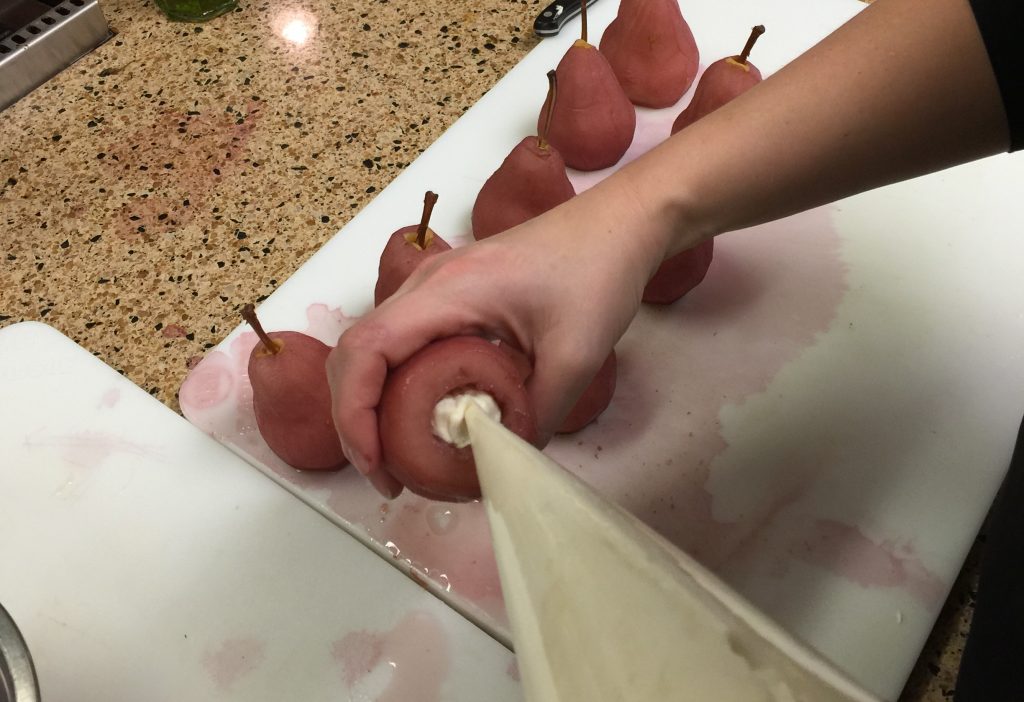 When everyone had finished prepping their tapas, we sat down and the Schnucks crew fed us the meal we just made—with more wine. We had garlic cayenne shrimp on tomato toast with manchego cheese, lamb meatballs with mint, and chorizo and potatoes with fried egg. As far as I'm concerned, however, our dessert stole the show.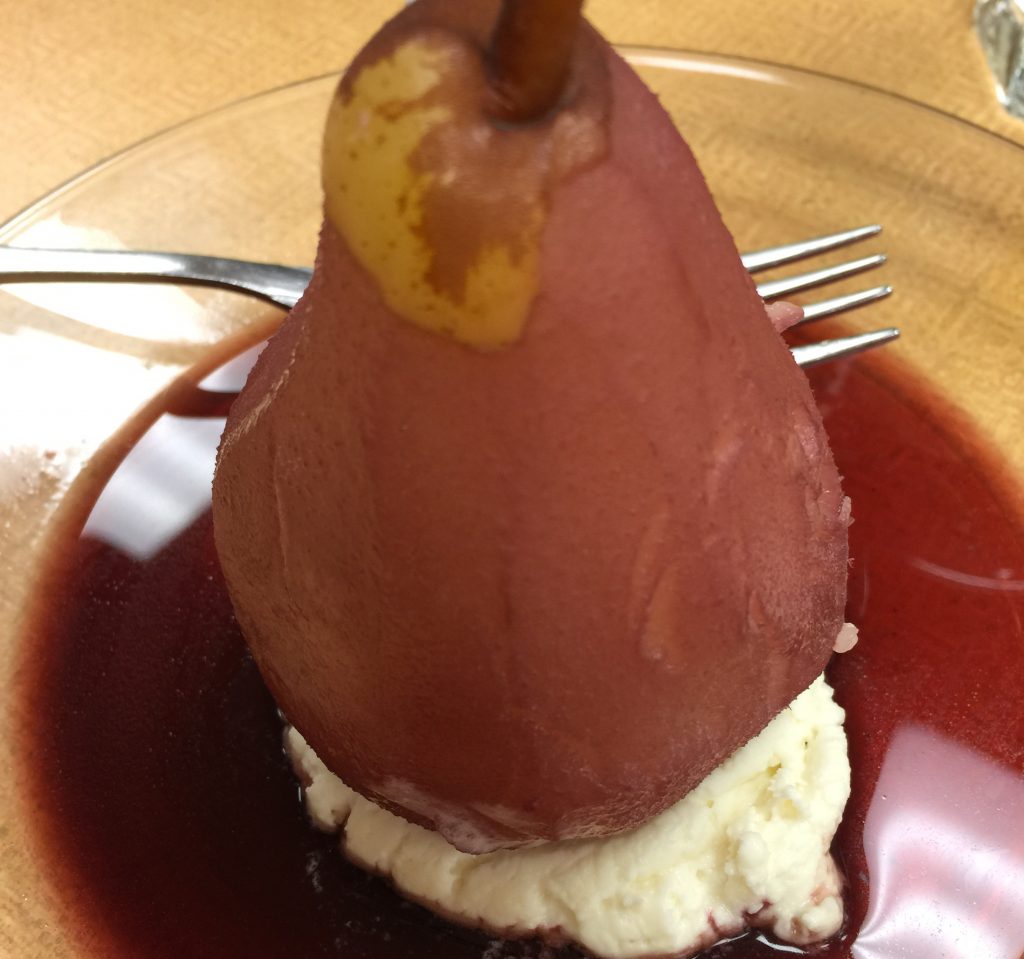 The pears had a great depth of flavor from the mulled wine, and the cream filling was so damn good that I ate the leftovers by the spoonful. This looks like a very sophisticated and complicated recipe, but it's actually incredibly simple. I will definitely be serving this one up again (and I may even try switching up the fruit … I'd think apples would be just as tasty).
I'm excited about taking another class as I continue to improve my culinary acumen. Next time, though, I think I should bring my portable record player and some vinyl to take the fun to the next level.
Poached Pears with Mascarpone Whip
Recipe modified slightly from Schnucks Cooks Cooking School. Serves 6.
1 bottle Rioja red wine
2 cups water
1/2 cup sugar
3 cinnamon sticks
1 tbsp. black peppercorns
1 bay leaf
4 coarsely crushed cloves (smashed with flat part of the knife)
6 ripe Bartlett pears
1 lemon
2 tsp. vanilla
Pinch of salt
8 oz. mascarpone, softened to room temperature
1/2 pint heavy cream
3 heaping tbsp. honey
Pour the wine, water, and sugar into very large pot. Bring to a simmer. Add cinnamon, peppercorns, bay leaf, and cloves. Add additional water, if needed, to cover pears. Bring to a boil, reduce to simmer, and cover.
Peel the pears. Slice off the bottom 1/2 inch so they stand up straight. Remove the cores with an apple corer. Lightly rub each peeled pear with a halved lemon to prevent browning.
When pears are poached (soft enough for a knife to easily pierce through), gently remove them with a slotted spoon (save the liquid) and stand them upright on a plate or cutting board. Gently brush away any cloves or peppercorns. Cool to room temperature, then cover with plastic wrap.
Strain the wine mixture through a fine wire mesh filter and return liquid to the pot. Add vanilla and salt. Bring to a high boil and reduce to about a 1/2 cup of syrup.
In a small bowl, mix the mascarpone and honey with a spatula.
In a large bowl, whip the cream with an electric mixer until it forms stiff peaks. Gently fold the mascarpone mixture into the cream.
Put the cream into a pastry bag (or a sandwich back with a snipped corner) and fill the pears.