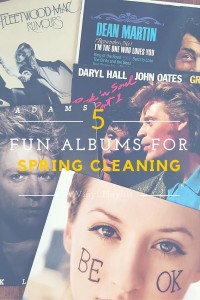 Sunday marks the official start of Spring, the time when we all start thinking about kicking off the ice from winter and getting a fresh start for the warmer months ahead.
If you're like me, that process includes giving your home a good deep cleaning. Cleaning isn't high on most folks' lists of fun activities, but it doesn't have to be the world's worst chore. Putting on some great music can take cleaning from miserable to bearable.
In fact, I find that these five albums tend to get me singing and dancing so much that I whip through my cleaning tasks in no time and barely notice how hard I was working.
Bonus: You can burn 90 calories for 15 minutes of housework. That's about 180 calories per album on this list or nearly 1,000 calories if you keep cleaning through all five! Not bad.

"Rumours" by Fleetwood Mac
Released in 1977, this LP will get you dancing as you clean. Even the uninitiated will know some or most of the songs on this one, which include "Don't Stop," "Go Your Own Way," and "Gold Dust Woman." It typically ranks high on best album lists, amazing considering this near-perfect record was recorded at the height of the band's interpersonal problems.
"(RememberMe) I'm the One Who Loves You" by Dean Martin
I have a very soft spot for Dean Martin. I always thought he was the most talented and sexiest Rat Packer (sorry, Frank Sinatra fans). This 1965 studio album is one of my favorites because it is a pretty upbeat and includes a bunch of great sing-along songs. I mean, how do you not swoon when he belts out "King of the Road" and "Birds and the Bees"?
"Reckless" by Bryan Adams
In my opinion, Bryan Adams is the second greatest Canadian rocker ever (after Neil Young, of course). This is his fourth studio album and probably his best. I vividly remember its release in 1984 (I was a very young girl, of course) and dancing on my mom's bed to "Summer of 69." That and several other amazing hits will keep you going as you dust, mop, and vacuum your way around the house.
"Rock 'n Soul Part 1: Greatest Hits" by Hall & Oates
Typically, I say greatest hits albums are cheating. In the case of Hall & Oates, however, its a necessity. I own everything from these guys and I can assure you they loved recording one or two great songs and then padding the rest of the album with fillers. They did that enough times that, by 1983, they could fill up this album with fantastic and danceable hits.
"Be OK" by Ingrid Michaelson
I've seen Ingrid Michaelson live three times (she's fantastic) and have fully developed a major crush on this girl-next-door singer/songwriter. For the uninitiated, this 2008 album is a great introduction to her awesomeness. It's light and happy and oh-so-much fun, especially "You and I." There are some more mellow tunes, but they are beautiful and won't slow your cleaning roll.
What do you think are the best albums to make cleaning feel like less of a chore? I'd love to hear your thoughts in the comments below!