The food: In most cities, the only options for delivery food are pizza and Chinese. I eat more Asian food than I'd like to admit because it would mean owning up to my incredible laziness. What drives me nuts about ordering in, though, is how damn expensive it is. By the time I pay for the food, rice, delivery fee, and tip, my bill for two is usually nearly $30. For crappy food. No more! I decided to learn to cook some of my favorite takeout meals, starting with beef and broccoli. I discovered it's so stinking easy to make that restaurants should be ashamed for charging $30 for a cold, subpar version. This takes 15 minutes and you can serve four for less than a delivered meal. Plus, it tastes as good or better. I promise.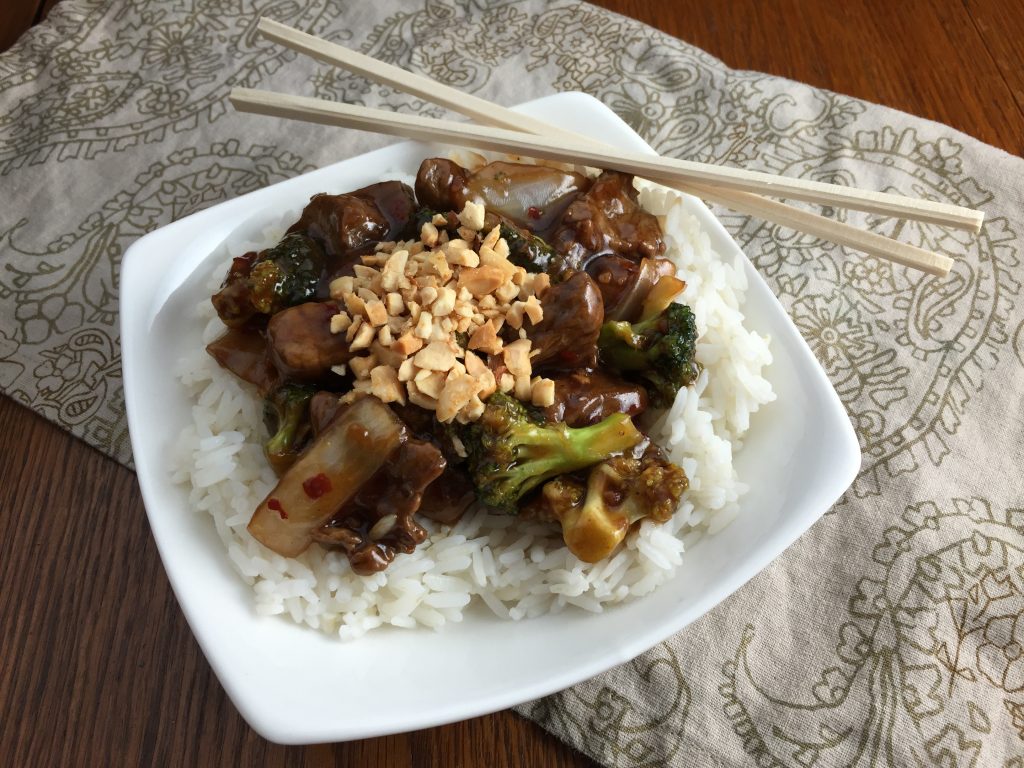 The music: Choosing an album to go with Chinese food wasn't easy. My collection doesn't include any obvious contenders, as I'm woefully lacking in global music. I tried a few records before settling on 1977's "The Grand Illusion" from Styx (insert cheap chop-styx joke here). Why this one? I wish I had a compelling reason, but the truth is it just felt better than some of the other options (including Eurythmics, George Harrison, and Modest Mouse—I tried a little of everything!). This is the Chicago pop-rock band's 7th album and includes one of their biggest hits, "Come Sail Away." This recipe is so simple that you'll only hear Side 1 before you finish cooking, which is a good thing because Side 2 is kind of horrible. Choose something else for while you eat; we went with a greatest hits LP from The Mamas & The Papas.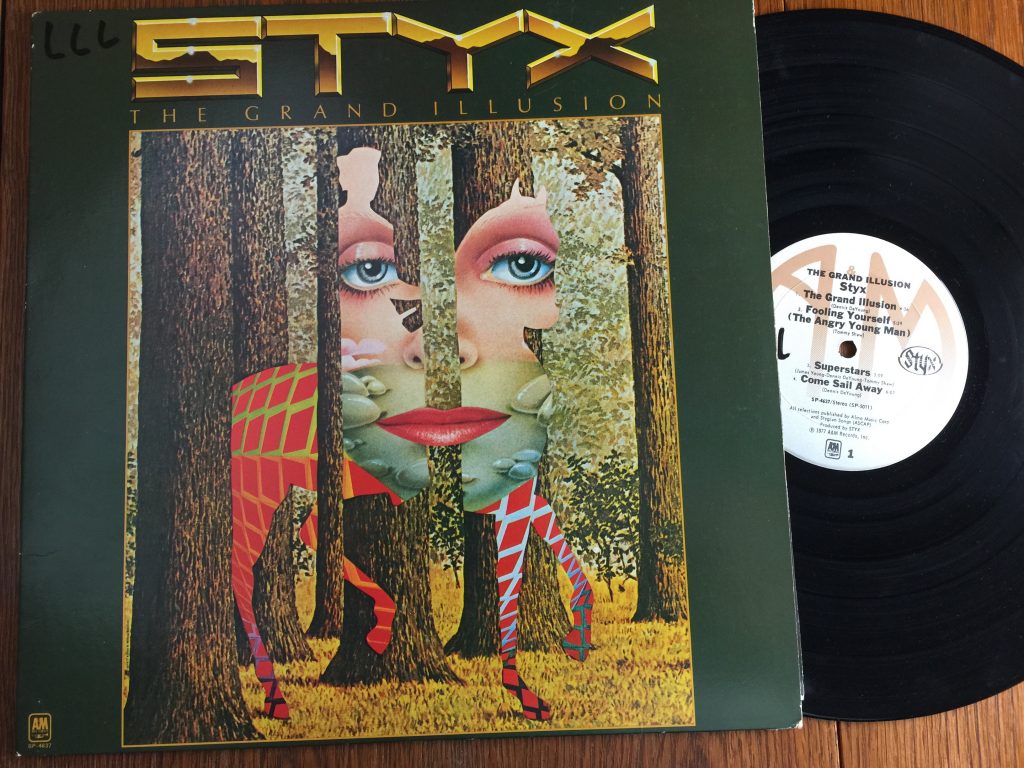 Making your own meals means you always know what's in them. I like that. I'm never sure with cheap Chinese food what level of quality I'm getting, but with this recipe I could see all of my ingredients (below) and feel good about them. I marinated my beef, which helps make inexpensive flank steak more tender. The next day, I put it in a skillet (note to self: time to buy a wok), then added the fresh broccoli and onion. Finish by adding the sauce, and wait for it to thicken. Seriously simple.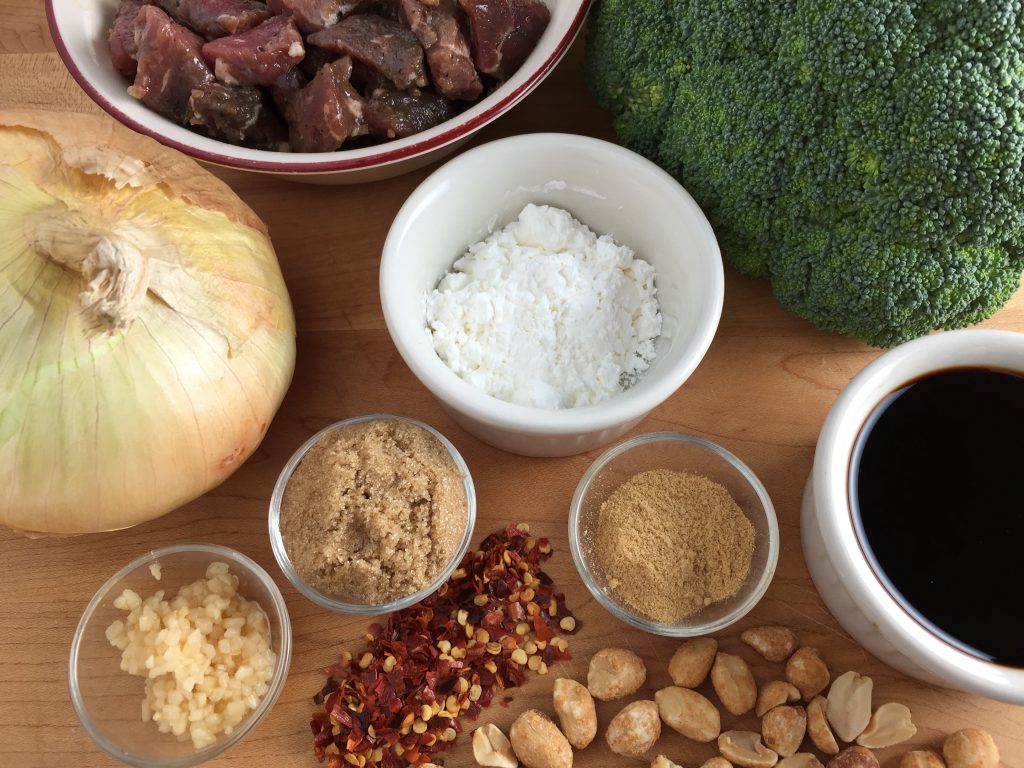 A couple of notes: Cornstarch is the most important ingredient in the sauce because that's what thickens it and gives it the familiar consistency. Also, I used 1 tsp. of red pepper flakes and decided that's about a 3-star heat rating on the typical Asian restaurant scale, so adjust up or down from there based on your preferences.
Ingredients

1 lb. flank steak cut into strips
1/4 cup teriyaki sauce (optional)
1 tbsp. garlic (divided in half)
1/3 cup soy sauce
2/3 cup water
2 tbsp. brown sugar
2 tbsp. corn starch
2 tsp. ground ginger
1/2 tsp. red pepper flakes
1 tbsp. olive oil
1 lb. (1 med. head) broccoli, cut into florets
1 small yellow onion, cut into wedges
2 cups cooked rice
2 tbsp. peanuts, crushed

Instructions

Marinate beef in teriyaki and 1/2 tbsp. garlic for a few hours or overnight (optional).
Mix remaining garlic, with soy sauce, water, brown sugar, corn starch, ginger, and red pepper flakes in a small bowl.
Heat oil in large skillet or wok over medium heat. Add steak. Cook until just browned.
Add broccoli and onions. Cook until tender.
Add sauce. Cook until thickened.
Serve over rice and top with crushed peanuts.

https://www.cookingwithvinyl.com/duet-beef-and-broccoli/

® Cooking with Vinyl (do not reproduce without permission)