The food: I'm not going to lie. There's nothing low-fat, low-calorie, low-carb, or low anything about this baked Chicken Alfredo with Sun-Dried Tomatoes. It's a creamy, cheesy guilty pleasure—and I say enjoy it to your heart's content. In fact, make it even more sinfully amazing by serving it with Asiago Garlic Bread and a glass of light red wine (merlot or pinot noir pair nicely). Buon appetito!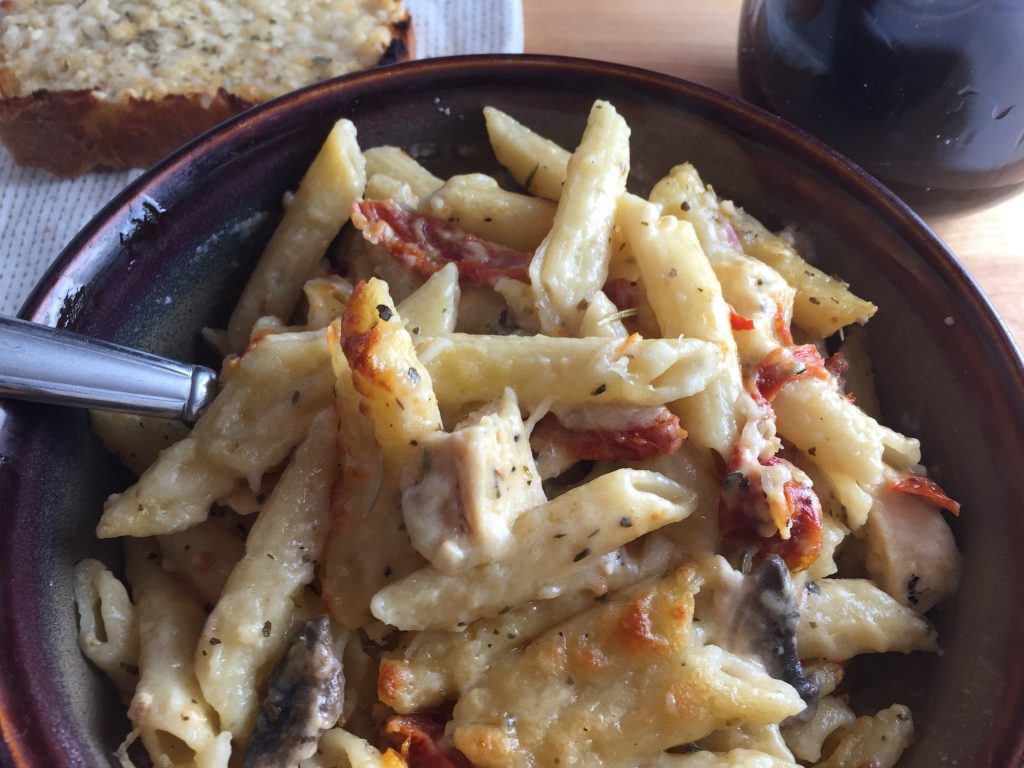 The music: Hi, my name is Becky, and I'm a Dean Martin addict. I have 26 of his albums in my collection so far (and, from what I can tell, he only made 33 studio, 30 compilation, and 3 live records). He's far and away my favorite crooner, and I'm not afraid to say that I think he's leaps and bounds better than the more famous Rat Packer Frank Sinatra. Whenever I cook Italian, I always grab his 1962 "Italian Love Songs" LP. It sets the right mood and always makes me smile. There are some well-known tunes here, so even if you don't love Dean as much as I do (and no one does), I'm pretty sure you'll find something you'll recognize and enjoy. Plus, look at his mug on the cover. Do men get any cooler than this guy?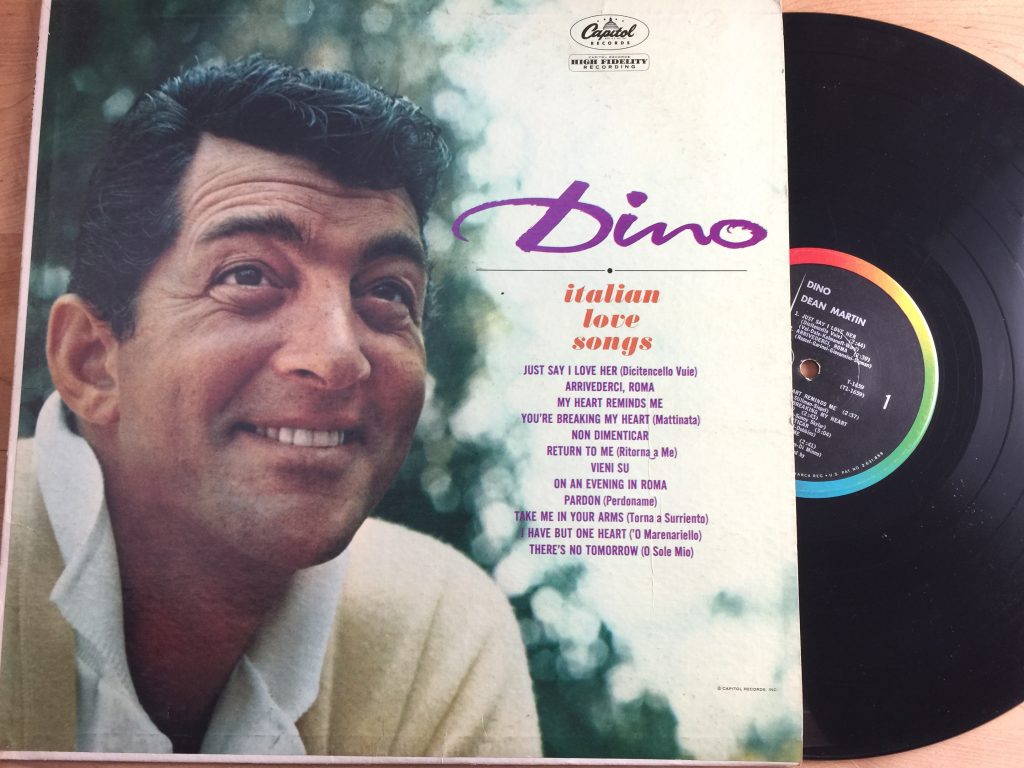 This album ends up being almost the perfect length to prepare this dish, which starts with a few basic and beautiful ingredients (below). This takes three separate pots and a casserole dish to make, so there's quite a bit of clean up involved. That said, it's actually fairly simple to prepare and it bakes up bubbly brown in the time it takes to listen this record for a second time (or almost any other Dino album).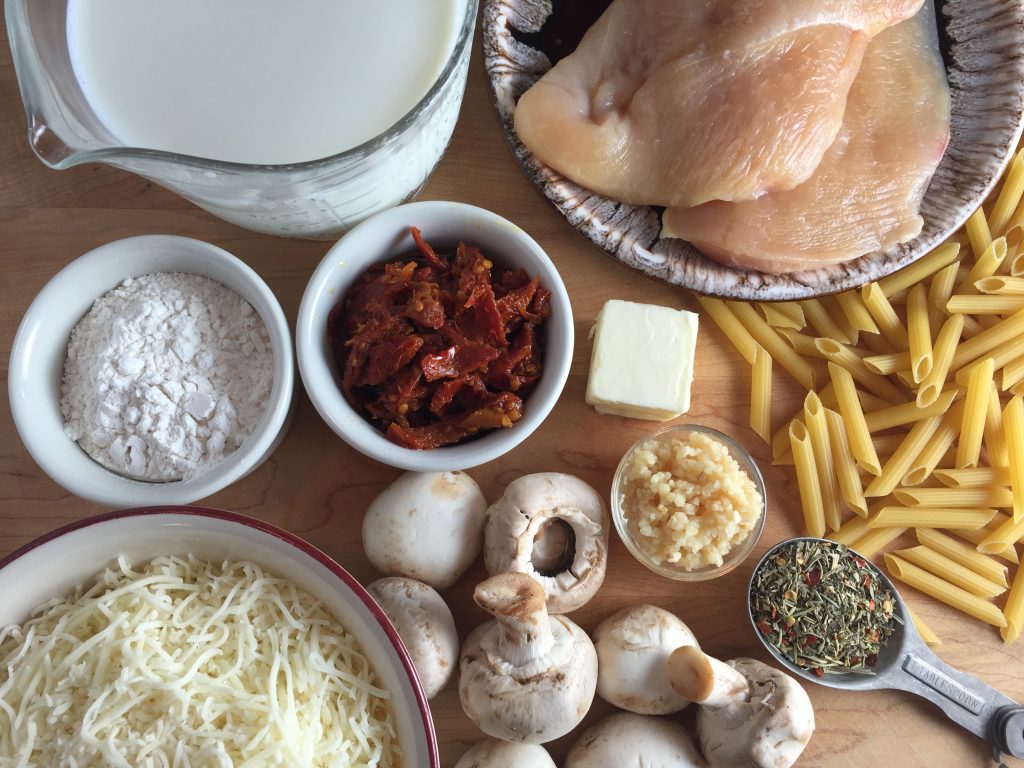 Looking for an even easier chicken pasta dish? Try my recipe for One Pot Cheesy Chicken Pasta.
Chicken Alfredo with Sun-Dried Tomatoes

Ingredients

2 1/2 cups (half of a 16-oz./1 lb. box) penne pasta
2 chicken breasts
1 tbsp. olive oil
3 tbsp. butter
1 tbsp. garlic
1 tbsp. Italian seasoning
1/4 cup flour
3 cups milk
1 cup (about 8-10) button mushrooms, sliced
1 8 oz. jar sun-dried tomatoes
2 cups Italian cheese blend

Instructions

Preheat oven to 375 degrees.
Boil water and cook pasta short of al dente. Drain. Return pasta to pot (no heat).
Cut chicken into small pieces with kitchen scissors. Cook over medium heat in skillet with oil. Add salt and pepper to taste. Add cooked chicken to pasta.
In another large pot, melt butter. Add garlic and Italian seasonings. Add flour and whisk until combined. Add milk slowly, mixing thoroughly with the whisk. Add mushrooms and tomatoes.
Remove from heat and slowly add 1 1/2 cups of cheese. Add mixture to pasta.
Put everything into a 2-qt. casserole dish and top with remaining cheese.
Bake 20-30 minutes, until cheese is bubbly and golden brown on top.

https://www.cookingwithvinyl.com/duet-chicken-alfredo-sun-dried-tomatoes/

® Cooking with Vinyl (do not reproduce without permission)