The food: Pulled pork is a hit-or-miss meat. When it's good, it's moist, flavorful, and nearly impossible to stop eating. When it's bad, however, it's dry, tasteless, and not worth the calories. The good news is I have an easy recipe for getting it right every time, so you can dish it up with confidence at your Super Bowl® or Oscars® party. Best of all, it's a slow-cooker recipe, so you can spend your time on other party prep while the meat cooks. In a few hours, serve up this juicy and spicy pork with creamy coleslaw for some tasty game-time sandwiches.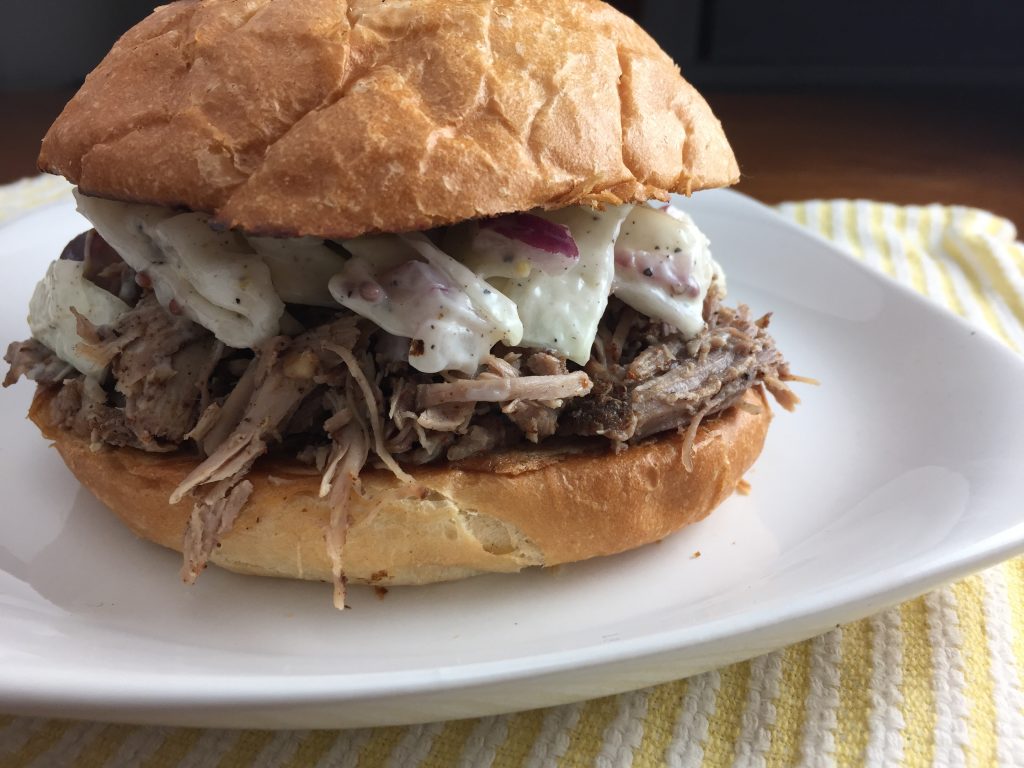 The music: BBQ and blues are a perfect pair (this isn't a barbecue recipe, but pulled pork is often slow-cooked on a smoker). For this recipe, I'm serving up Willie Dixon's "I Am The Blues" LP from 1970. The Chicago bluesman's songs have been covered by Rush, The Rolling Stones, The Grateful Dead, and dozens more. He may be best known for his court battle with Led Zeppelin, who eventually paid a settlement for stealing lyrics for "Whole Lotta Love" from "You Need Love," which Dixon wrote for Muddy Waters (listen to the similarities for yourself). While that famous ditty isn't on "I Am The Blues," you'll likely recognize a few of the nine songs that are, including "Back Door Man" (made popular by The Doors) and "I Ain't Superstitious" (from the Jeff Beck Group's debut album in 1968). Notice all those rock legends I just mentioned? If you love music, you must have Willie Dixon in your library.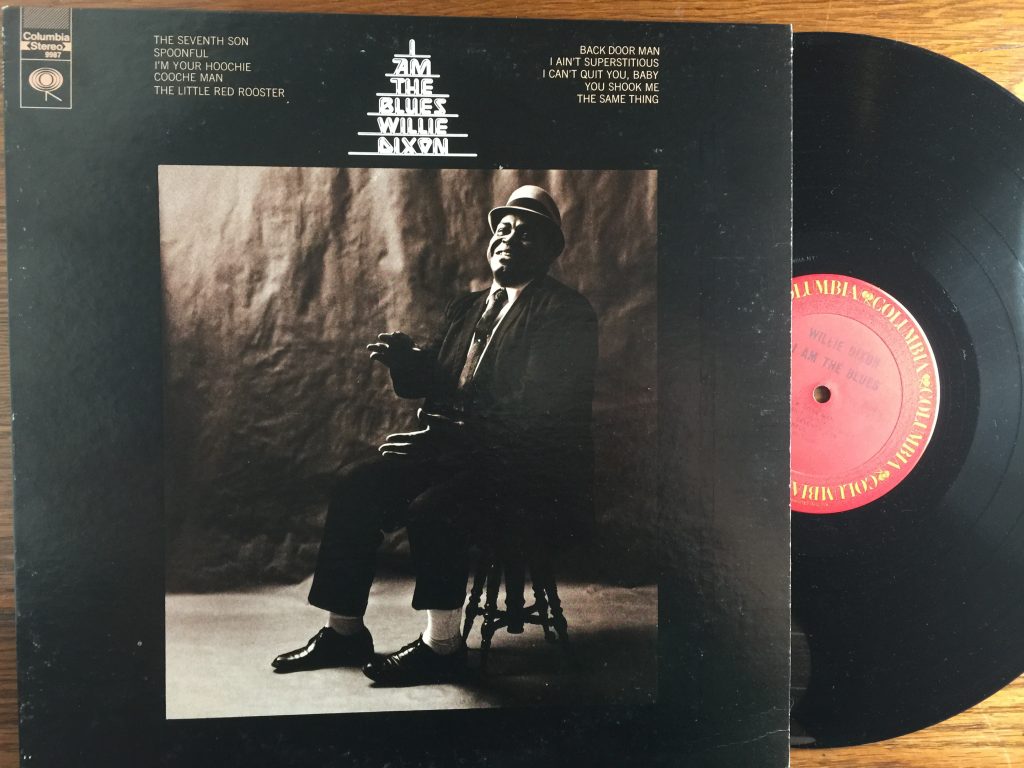 Back to the pulled pork. Whether you serve it on its own or as a sandwich, it isn't complete without a heaping helping of chilled coleslaw on top. This recipe is a fine balance of sweet and peppery, creamy and crunchy.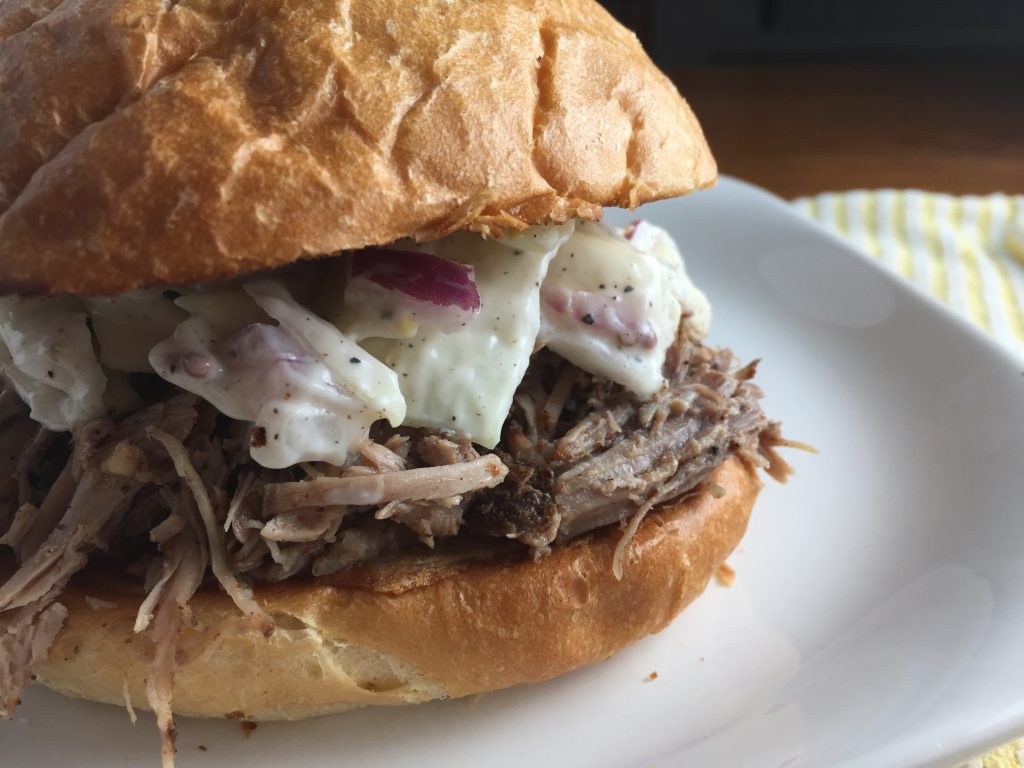 Have leftovers? Use them up with my yummy recipe for Pulled Pork Nachos.
Pulled Pork Sandwiches with Creamy Coleslaw

Ingredients

For the pork:
4 lb. pork butt/shoulder
1 tbsp. brown sugar
1 tbsp. paprika
1/2 tbsp. cayenne pepper
1 tsp. salt
1 tsp. cumin
1 tsp. black pepper
1 small white onion, cut into large slices
3 tbsp. garlic
12-oz. bottle of good-quality beer (I used Schlafly Pale Ale)
For the cole slaw:
3/4 cup mayonnaise
1/4 cup sour cream
2 tbsp. dijon mustard
2 tbsp. sugar
1/2 tbsp. black pepper
1/2 tsp. kosher salt
2 tbsp. cider vinegar
1 small head cabbage, shredded
1 medium red onion, thinly sliced

Instructions

Clean fat off pork; pat dry.
Combine brown sugar, paprika, cayenne pepper, salt, cumin, and black pepper. Rub all over meat.
Line bottom of slow cooker with onions and garlic. Place spiced meat on top. Pour beer around the sides. Cook on low for 6-8 hours.
While meat cooks, combine mayonnaise, sour cream, mustard, sugar, pepper, salt, and vinegar in a large bowl. Add cabbage and onion, combine to coat. Cover and refrigerate until meat is ready.
When meat is cooked and tender, remove it from slow cooker. Place it on a cutting board and use two forks to shred the meat.
Pour juices from slow cooker into a bowl, strain out onions.
Return meat to cooker and top with about half of the juices. Serve immediately, on browned brioche buns topped with cole slaw. Save the extra juice to add to leftovers.

https://www.cookingwithvinyl.com/duet-pulled-pork/

® Cooking with Vinyl (do not reproduce without permission)