The food: I'm not a big fan of scones. Most of the ones I've tried from various coffee shops are too dry for my liking. When it comes to baked goods, I prefer ooey-gooey treats. After discovering a glazed berry scone at Panera that I actually love, however, I decided it was time to add these biscuit-like cakes to my baking repertoire. This recipe isn't for scone traditionalists, but if you're like me and want a soft and chewy version, give it a shot.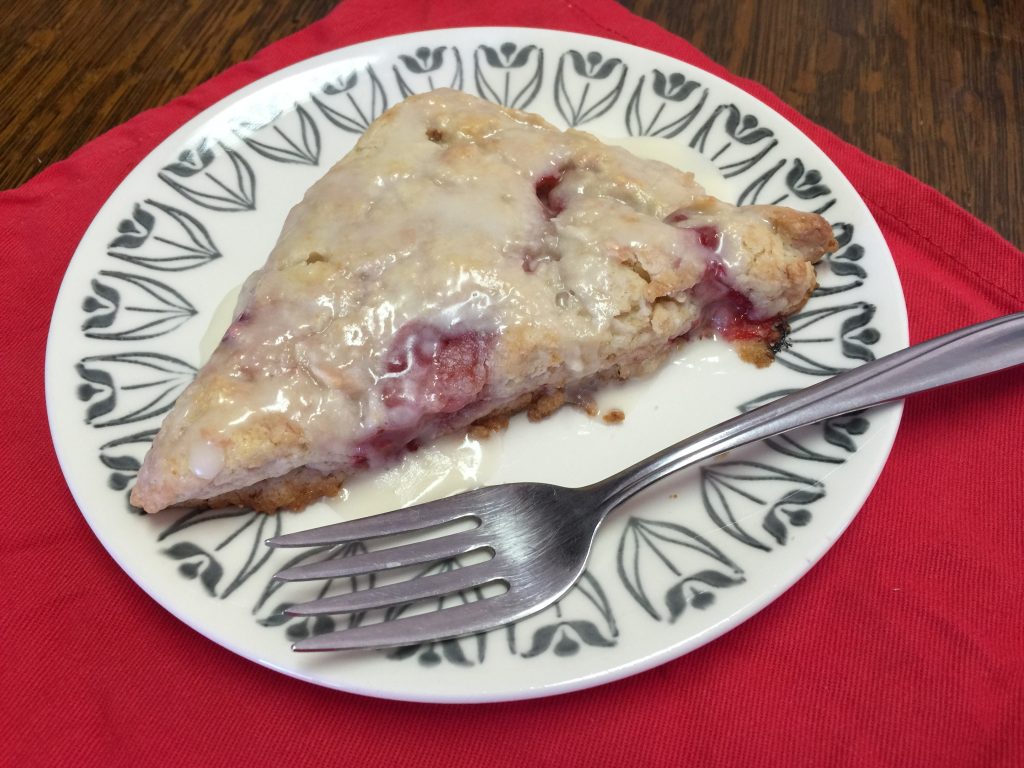 The music: Last December, my boyfriend and I hit a free show at a local record shop on a whim. We didn't know the artist; we were in it for free beer. I ended up loving St. Louis-based singer-songwriter Hilary Scott, who has a smooth bluesy voice that's radio ready…I'm just hoping she gets that exposure soon. I bought her first EP, "Flowers on Mars," because 1) I liked the music and 2) she recorded it only on red vinyl–a chick who loves vinyl is a chick I love. With a running time just longer than 17 minutes, this EP can keep you entertained while making the scones (then you can play it again while you eat them!).
Listen to Hilary Scott's "Flowers on Mars" on my "Strawberry Scones" playlist on Spotify.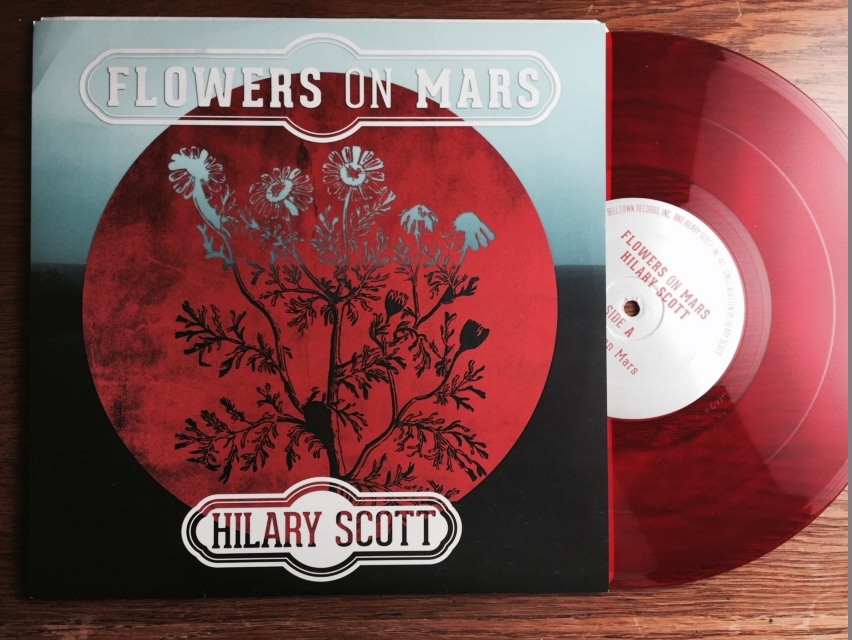 A few things I learned while making scones:
Cold butter is key to a flaky crust, so don't let it soften too much before integrating it into the flour.
Make sure your dough is nicely chilled before you attempt to cut it into scones — that's the only way to it will hold together. Also, use plenty of flour on your surface to keep it from getting too sticky.
Don't freak out when your scones spread while baking. Most of mine grew, changed shape, and didn't look too pretty by the time they were done. It's okay–they all eat the same.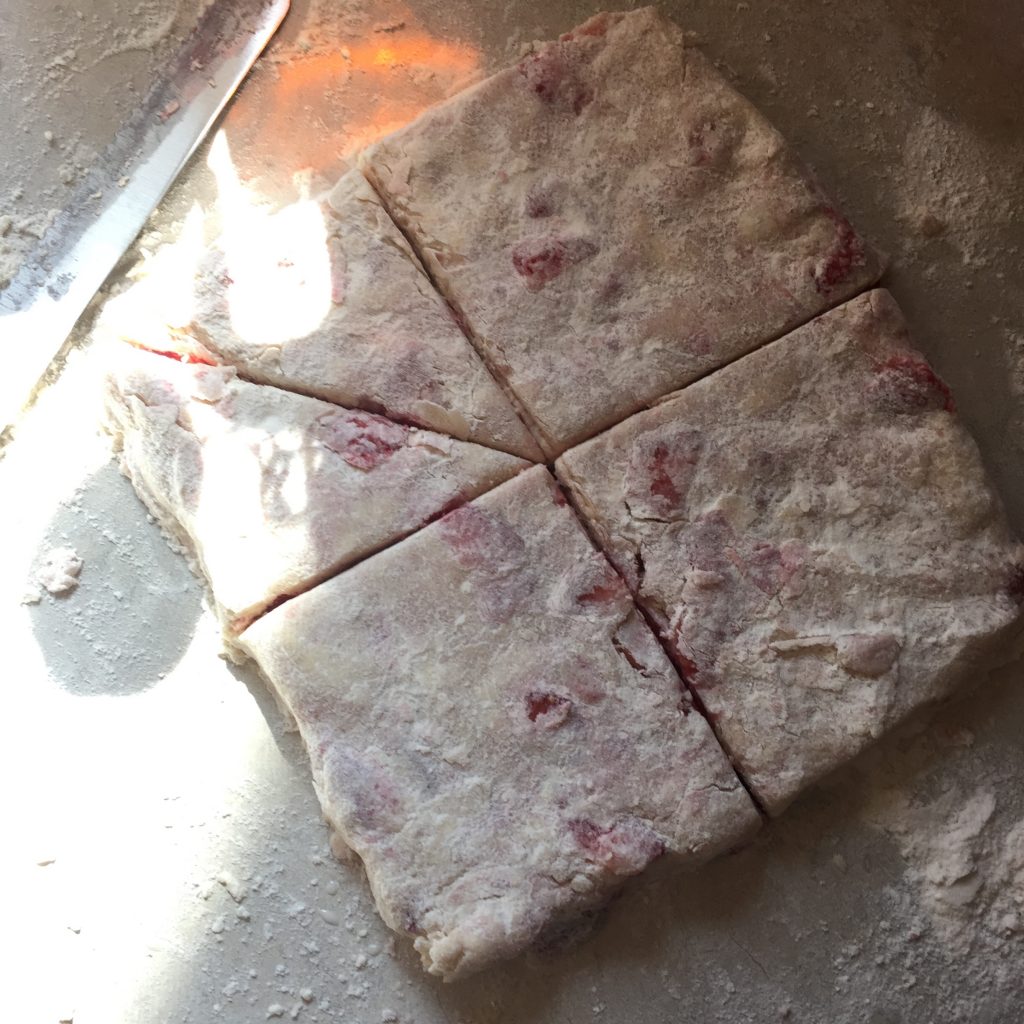 Although the results are nice and chewy, this scone is also perfectly flaky. I added the sugary glaze on top while the scones were still warm because I couldn't wait to dig in. If you want the scones to remain crispy, however, wait until they cool before adding the glaze. Also, if possible, use fresh strawberries because they are the stars.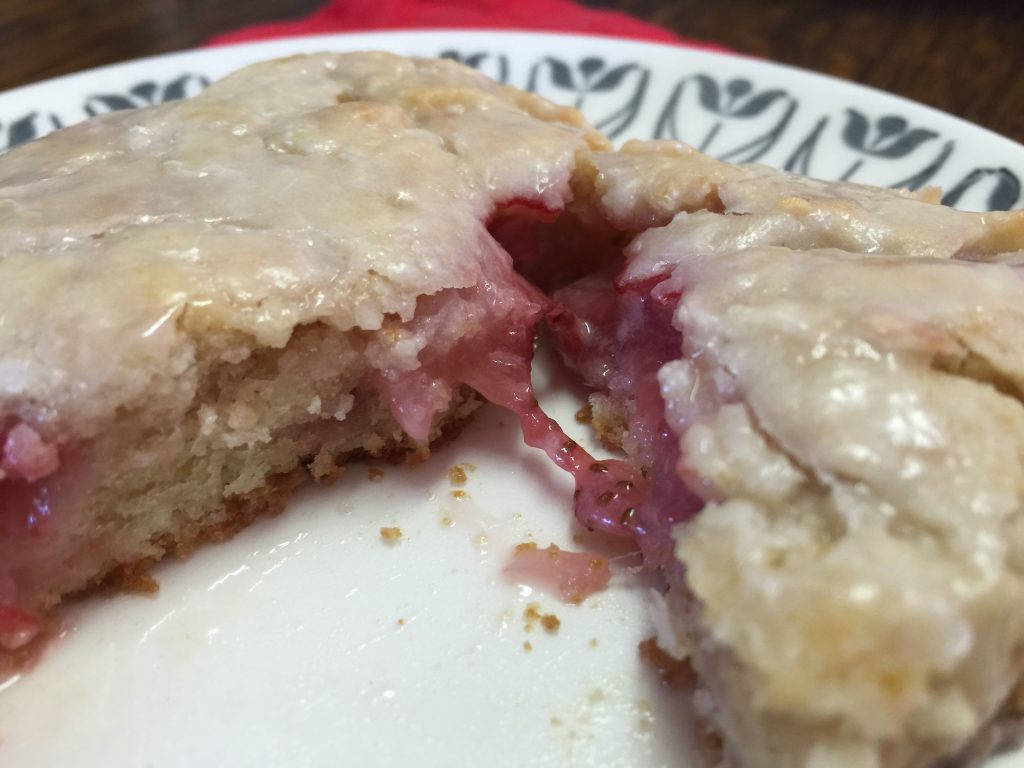 Looking for another breakfast-friendly bread recipe? Try my Butternut Squash Bread with Cream Cheese Frosting, too.
Ingredients
2 cups flour
1/2 cup sugar
1 tbsp. baking powder
1 tsp. salt
1/2 cup cold unsalted butter, cut into squares
18 strawberries, chopped
1 cup whipping cream, divided
For the glaze:
1 1/2 cups powdered sugar
1/4 cup whipping cream
1/4 tsp. vanilla
Instructions
Preheat oven to 425 degrees.
In a large bowl, combine flour, baking powder, sugar, and salt. Cut butter into mixture with a pastry blender until it is the size of small peas. (Cold butter is the key to a flaky crust.) Fold in strawberries. Freeze dough for 5 minutes.
Add ¾ cup cream and combine just until it holds together as a soft dough. Place dough on a floured surface and press into a 1-inch-thick square (warning: it will be crumbly).
With a sharp knife, cut the square into four smaller squares, then cut each of those in half diagonally to create eight wedges.
Place scones onto a baking sheet lined with parchment paper. Brush the tops with the remaining cream. Bake until cooked through and golden brown, about 15 minutes. Place scones on a cooling rack for about 10 minutes.
While scones cool, make the glaze by whisking together powdered sugar, cream, and vanilla until smooth and creamy. Drizzle glaze onto cool scones.
https://www.cookingwithvinyl.com/glazed-strawberry-scones/
® Cooking with Vinyl (do not reproduce without permission)