The food: We were gifted a KitchenAid stand mixer with the ice cream maker about a year ago (thanks, dad!). Since then, I've been experimenting with recipes in hopes of figuring out the easiest way to get creamy delicious homemade custard. I think this fits the bill. Using this basic recipe, you can create almost any kind of ice cream in less than 2 hours. Yes! For this homemade strawberry ice cream, I added fresh (please, please use fresh if possible) pureed strawberries, but you could replace that with caramel, chocolate syrup, coconut milk, or any other base flavor. Or, skip that step for basic vanilla. From there, you can add tasty extras a few minutes before the ice cream is set (pretzel bits, chocolate chips, Oreos, etc.). If your ice cream doesn't get perfectly frozen in the maker, just stick it in the freezer and it will set overnight (it may not look perfect at that point, but it will eat great).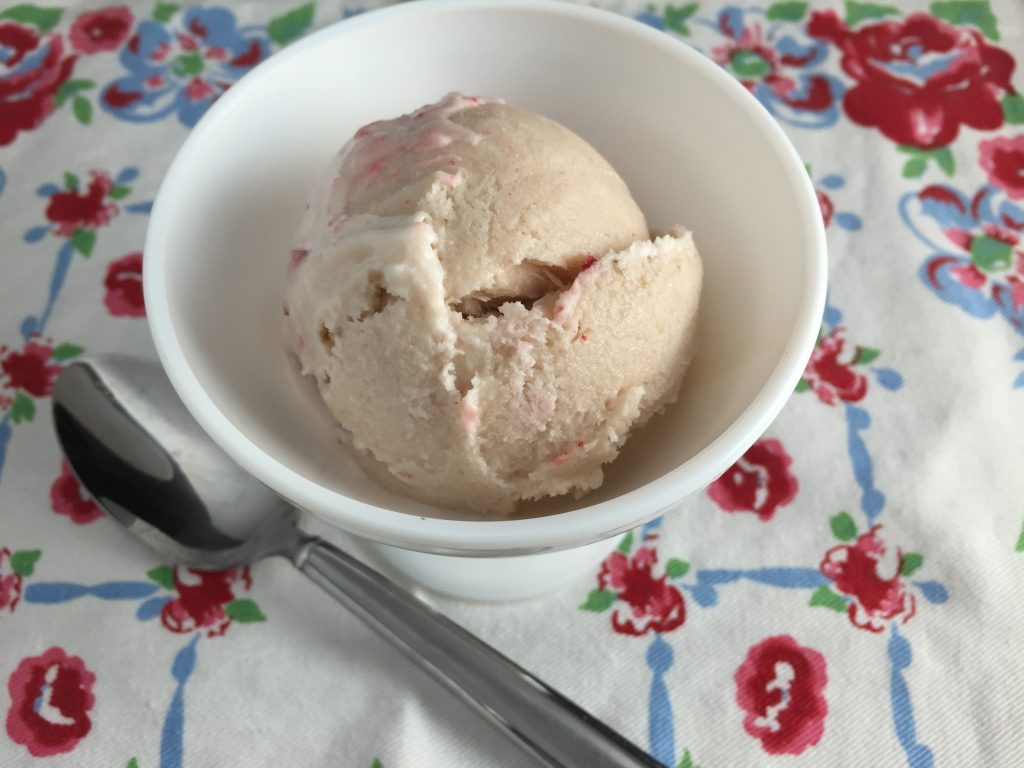 The music: Two mentions of Prince's "Purple Rain" in one week? This 1984 album deserves it. There ain't a dud among the nine songs, which includes some giant hits like "Let's Go Crazy" and "When Doves Cry," and some lesser-known but still great tracks like "Darling Nikki." (Warning, that last one made me blush when this album came out — of course I was only 9 years old at the time.) This is Prince's fifth studio album and is usually included somewhere in the top 20 of best-albums-ever lists. I can't argue. This music is as smooth and sexy as this strawberry ice cream, especially when you serve it with chocolate, below. Picking up what I'm dropping down? This is a winning duo if you want to get your lady in the mood!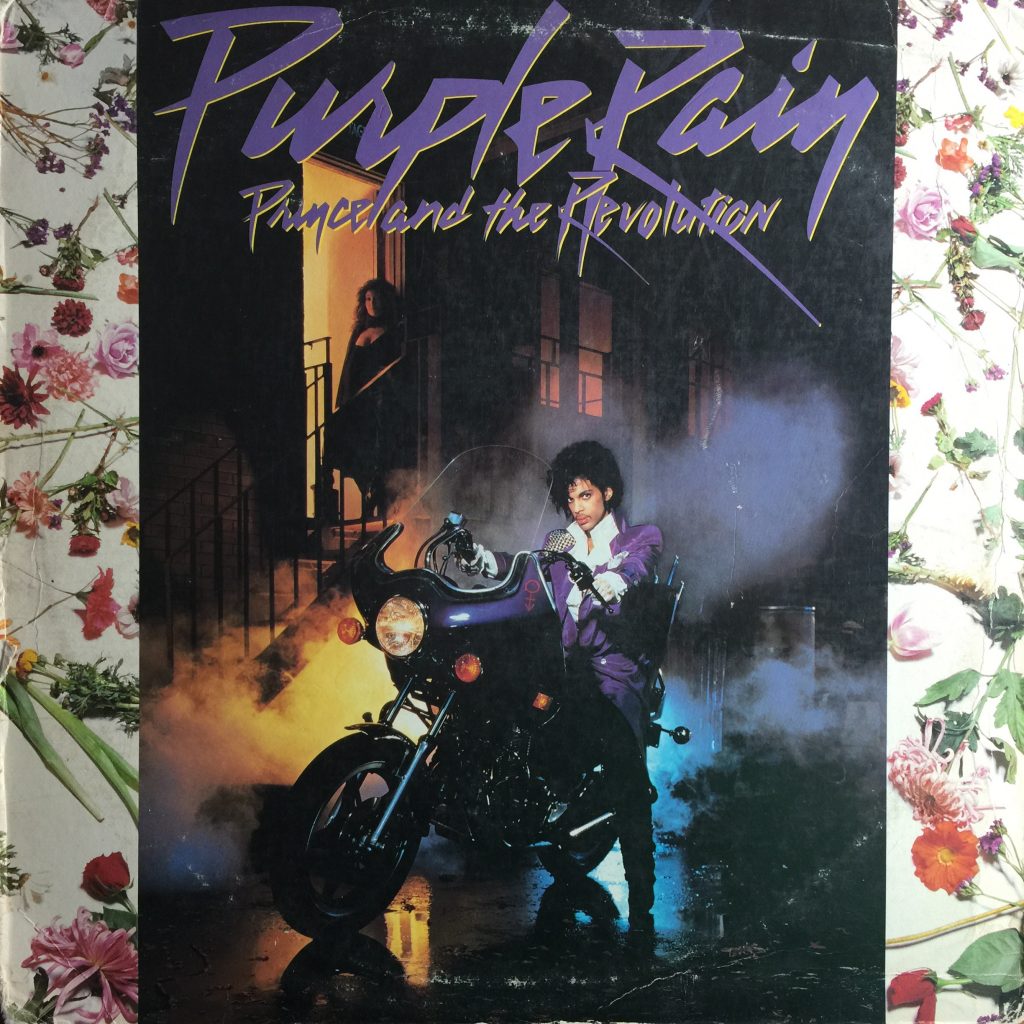 Seriously, serving this strawberry ice cream with chocolate is pretty much my best idea ever. It's amazing on its own, but coupled with a chewy chocolate cookie and hot fudge it's heavenly. It's like chocolate-covered strawberries in creamy, frozen form. Oh boy, I'm getting all charged up just remembering how yummy it was. I need to remake this one soon!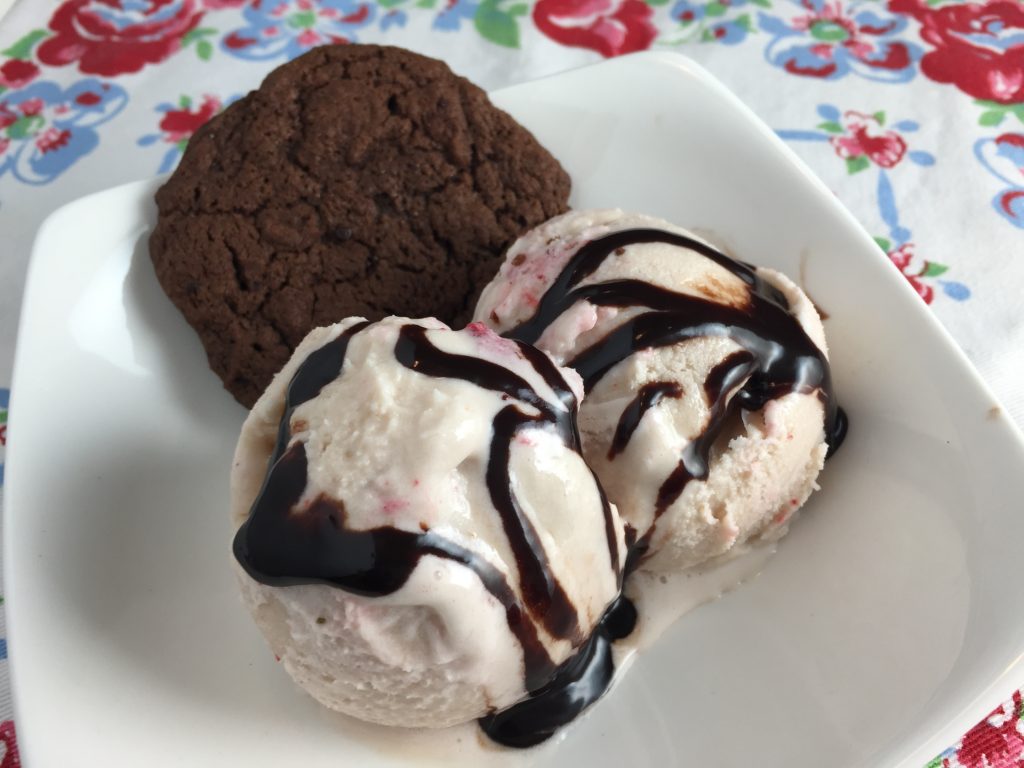 Homemade Strawberry Ice Cream
Ingredients
1 ½ cups half and half
1 ½ cups whipping cream
1 tsp. vanilla
¾ cup sugar
3 eggs and 2 egg yolks
1 quart fresh strawberries, stemmed and pureed
Instructions
Bring half and half and cream to light boil, stirring constantly. Reduce and let simmer 10 minutes while stirring. Remove from heat and add vanilla.
In a large bowl, whisk together sugar and eggs until thick and smooth; or use stand mixer on low setting for about 3 minutes. While mixing, slowly add cream to egg mixture just a bit at a time so the heat won't cook the eggs. Add pureed berries.
Cover bowl with plastic and refrigerate for 1 hour.
Place mixture in ice cream maker (like KitchenAid's ice cream maker attachment for its stand mixer) and churn about 20 minutes, or until it is thick and creamy but not yet the consistency of butter.
https://www.cookingwithvinyl.com/strawberry-ice-cream/
® Cooking with Vinyl (do not reproduce without permission)