The food: Mexican food is such a great guilty pleasure. After all, it's very often deep fried and loaded with cheese—and when you visit a hole-in-the-wall restaurant (the best kind), it's likely also swimming in oil, butter, or lard. To save us all a few calories, I came up with this baked chicken quesadilla recipe. Although it has a fair share of cheese, it's nonetheless a better alternative than what most restaurants dish up. Don't worry, this is still a damn tasty treat that has a little kick, a little crunch, and plenty of cheesy and creamy goodness.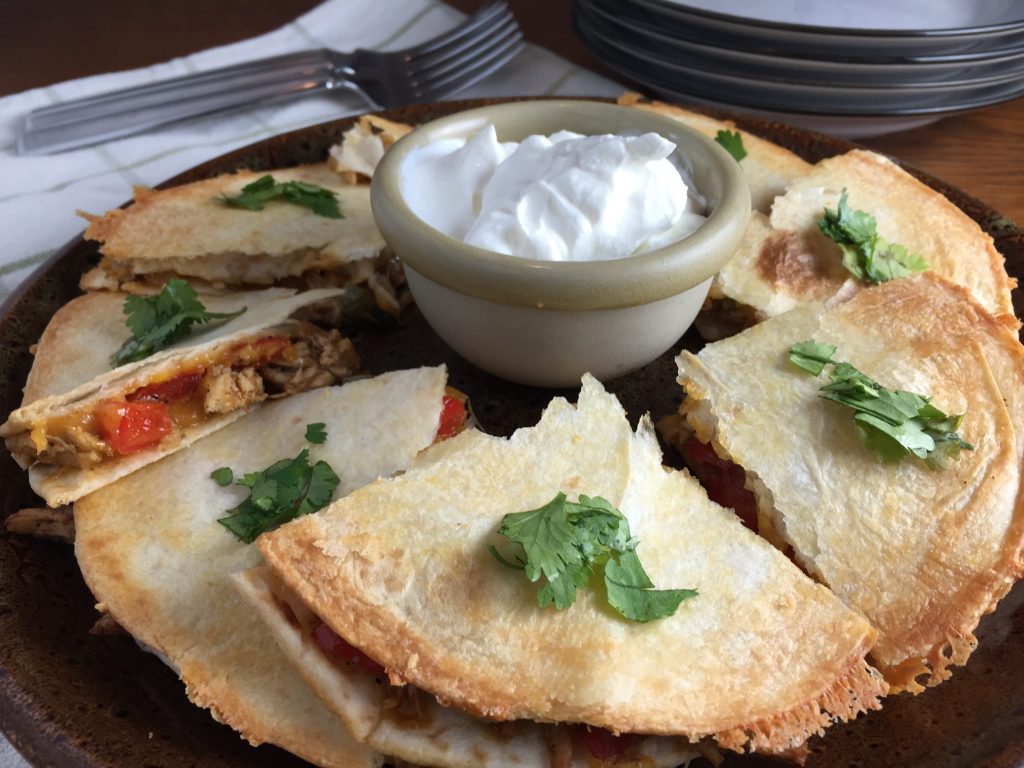 The music: Latin music is an obvious choice for latin food, but that doesn't necessarily mean mariachi. Santana is great rock-and-roll band and lead guitarist Carlos Santana is a legend on the axe. Truth be told, however, I've never been a big fan of Santana, mostly because I never really listened to them. My boyfriend, on the other hand, adores the band and he is the one who picked their second studio album, 1970's Abraxas, for our Mexican dinner. I recognized several tracks, including "Black Magic Woman," and found myself dancing around the kitchen as I prepped and cooked. Good stuff.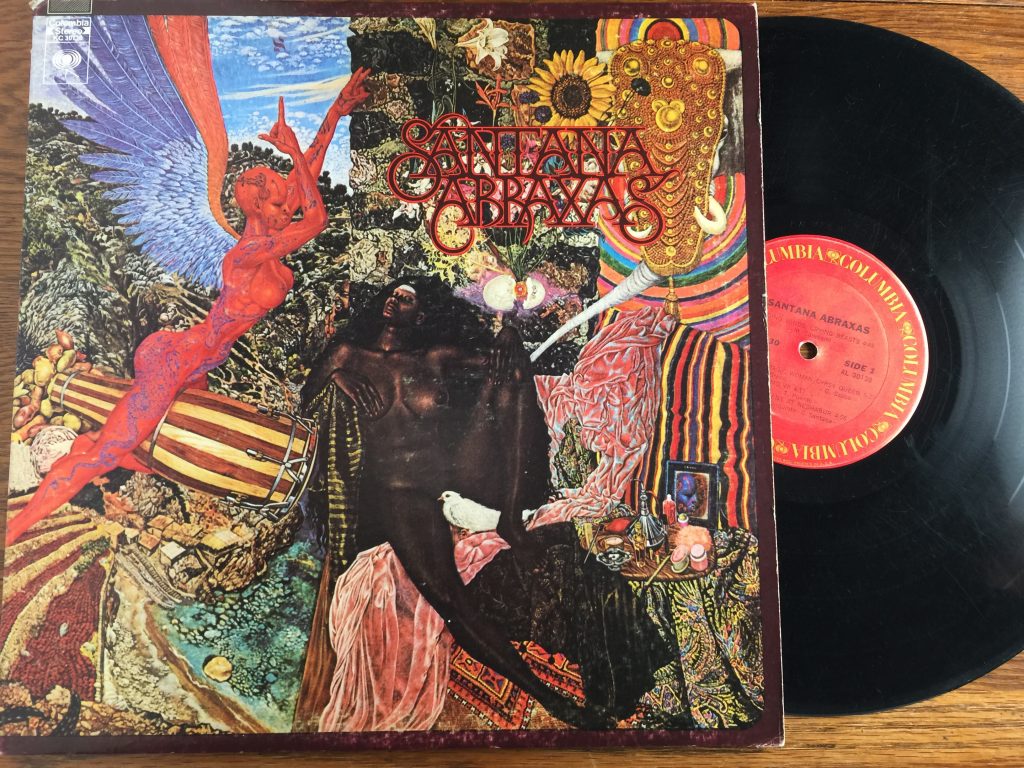 The added benefit of baking, not frying, these quesadillas is that you can cook several at once. If you're hosting a dinner party, it allows you to quickly serve everyone instead of pan frying one at a time. Cut the finished quesadillas into wedges for easy eating, especially if you plan to serve them as an appetizer to be shared.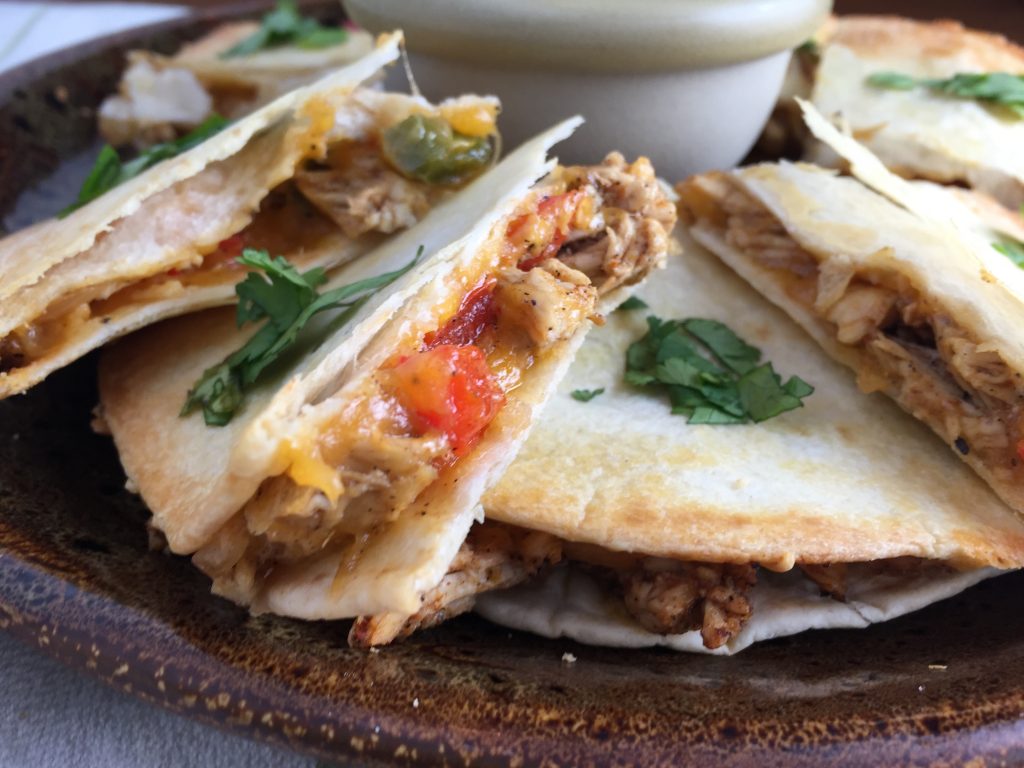 Want another idea for using shredded chicken? Try my recipe for Slow Cooker Chicken Chili, too.
Duet: Chicken Quesadilla / Santana "Abraxas"

Ingredients

2 tbsp. cooking oil
1 large chicken breast
2 tbsp. taco seasoning
1 red bell pepper, chopped
1 small onion, chopped
1 large jalapeño, diced
1 tbsp. cilantro
Juice of 1 lime
1 cup shredded cheddar cheese
8 small or 4 large flour tortillas
1 tbsp. butter (or spray butter)

Instructions

Preheat oven to 350 degrees.
In large skilled, heat oil over medium-high heat. Cook chicken breast until browned and shred using two forks. Add seasoning.
Add pepper, onion, and jalapeño. Cook until softened. Add lime juice and cilantro; stir.
On greased baking sheets, lay out half of the tortillas. Top the tortillas with half of the cheese. Add the chicken and vegetable mixture and then top with remaining cheese. Place remaining tortillas on top and spray or brush the tops with a light coating of butter.
Bake for 10 minutes, carefully flipping after 5 minutes and lightly coating the other side with butter. Serve topped with cilantro garnish and sour cream, if desired.

https://www.cookingwithvinyl.com/duet-chicken-quesadilla/

® Cooking with Vinyl (do not reproduce without permission)