This post may contain affiliate links, which means we may receive a commission if you purchase through our link. Clicking these links won't cost you any extra money and they help keep this site up and running!
The food: This recipe was a request…by the band I'm featuring. Say what?! Yep, I got to meet the band in question after a show (more on that in a minute), and I asked them what they would eat while listening to their album. How better to decide a perfect pairing? Their request was this (oddly specific) meal and a beer. I obliged…and the result was the perfect lunch on a sunny summer day.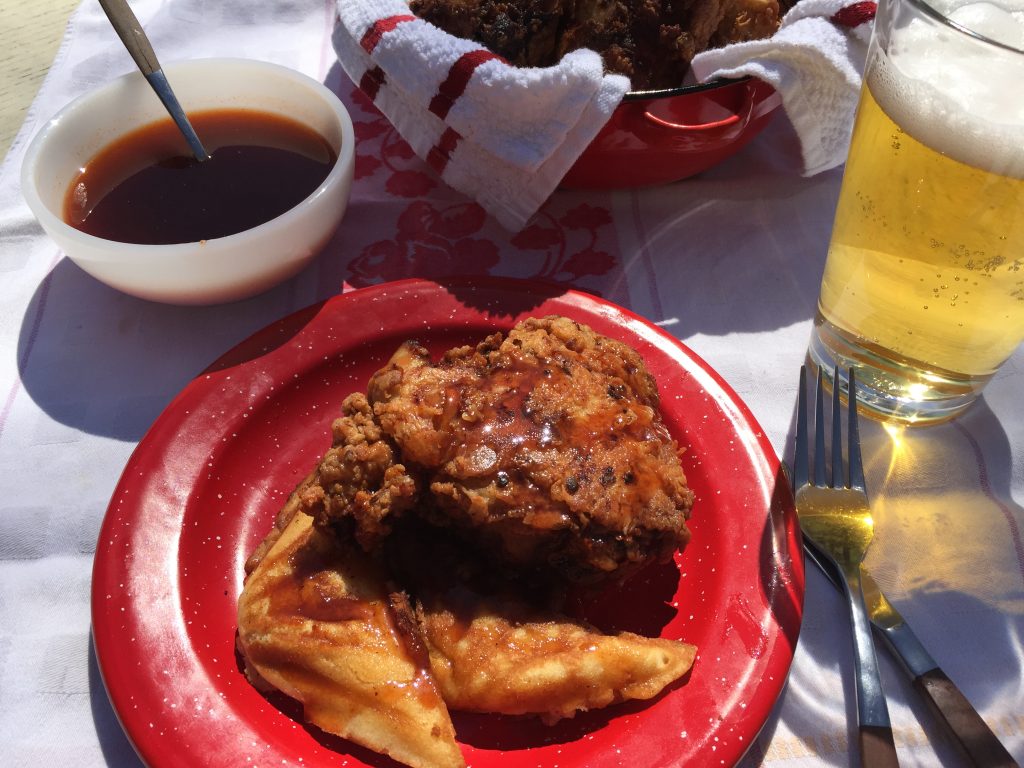 The music: I fell in love with Bronze Radio Return in 2011 when they released their second album, "Shake! Shake! Shake!" (I then discovered their first album, "Old Time Speaker," which is also great). They are, as a musician friend says, a "stomp clap" band. It's hard not to smile while listening to their music, which is friendly folk that's mostly upbeat. Don't think you know Bronze Radio Return? I guarantee you've heard their music, which has been featured in commercials for Nissan, the PGA, and more, and on American Idol. Their 2013 release, "Up, On & Over" includes "Further On," which had heavy play in the movie St. Vincent. Despite these successes, they don't have a giant following yet. That's too bad, but it means that I got to see them in a tiny venue in St. Louis and meet them afterwards. They were incredibly kind guys, and I hope they like the spicy comfort food I created to go with their similar-feeling album.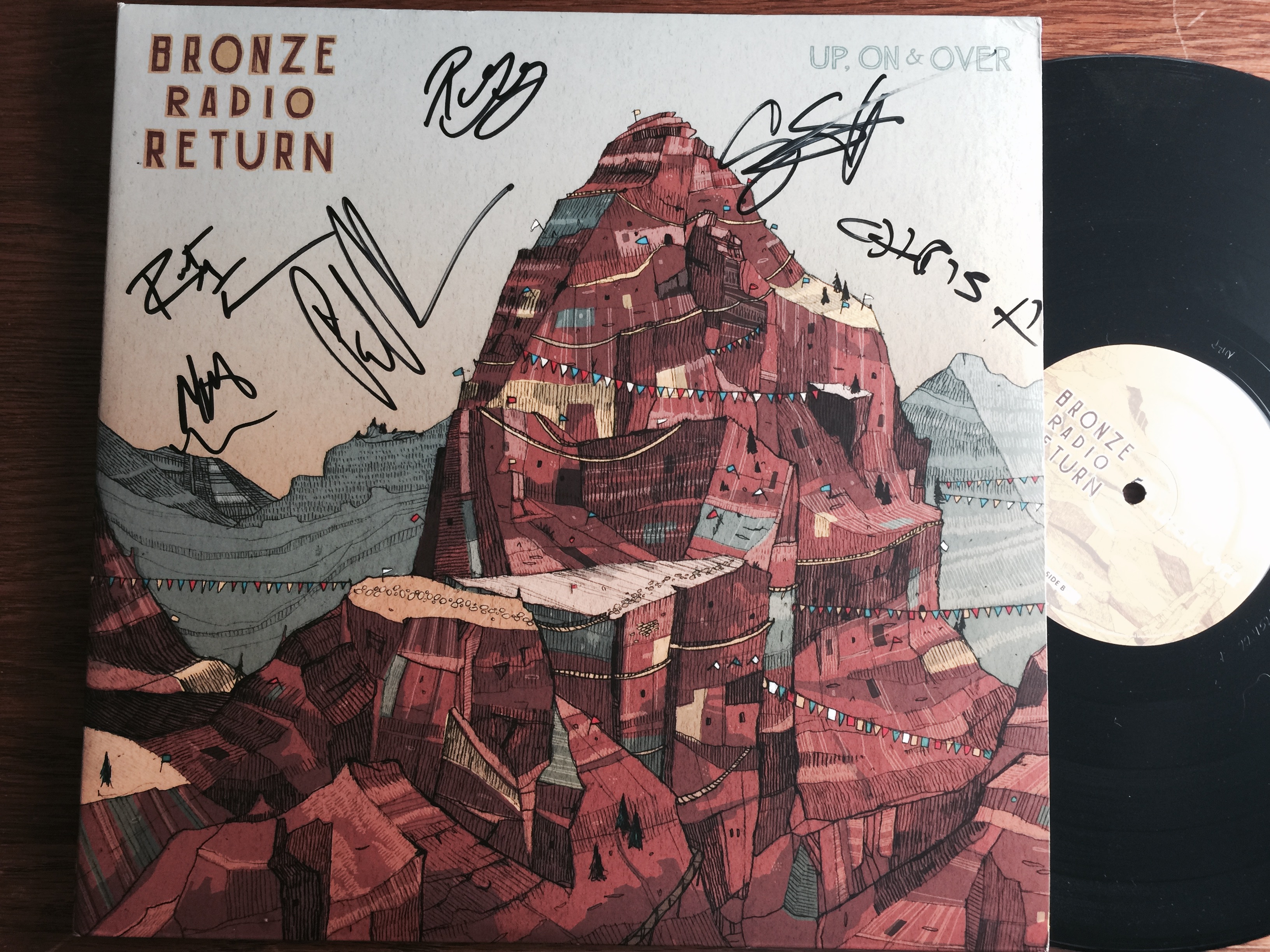 Fried chicken isn't all that difficult to make. The most important element is making sure you get it thoroughly cooked (salmonella isn't a good side dish). Everyone should own a meat thermometer and use it, but if you don't, you may want to cook the chicken longer than you think is necessary.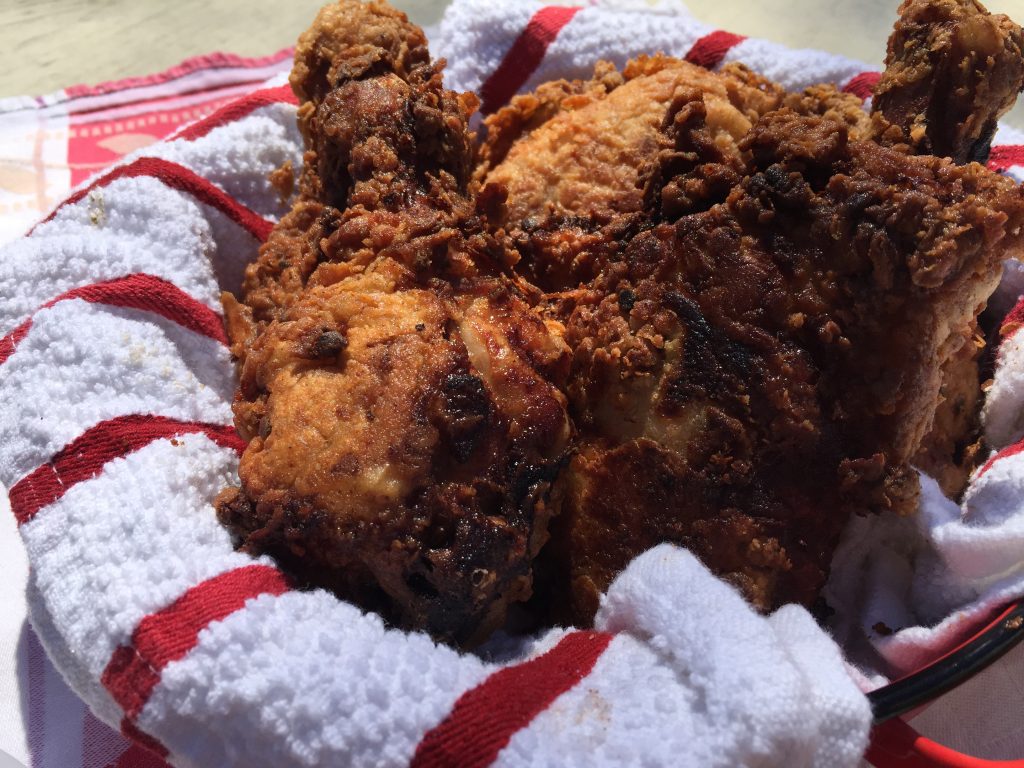 I loved that the Bronze Radio Return guys asked for Sriracha syrup. It adds such a great kick to this dish. The moist and crispy chicken gets a bit of flavor from the seasonings on the skin, but it (and the sweet, dense waffles) benefit from the heat of a spicy sauce. Plus, it's stupid easy to make.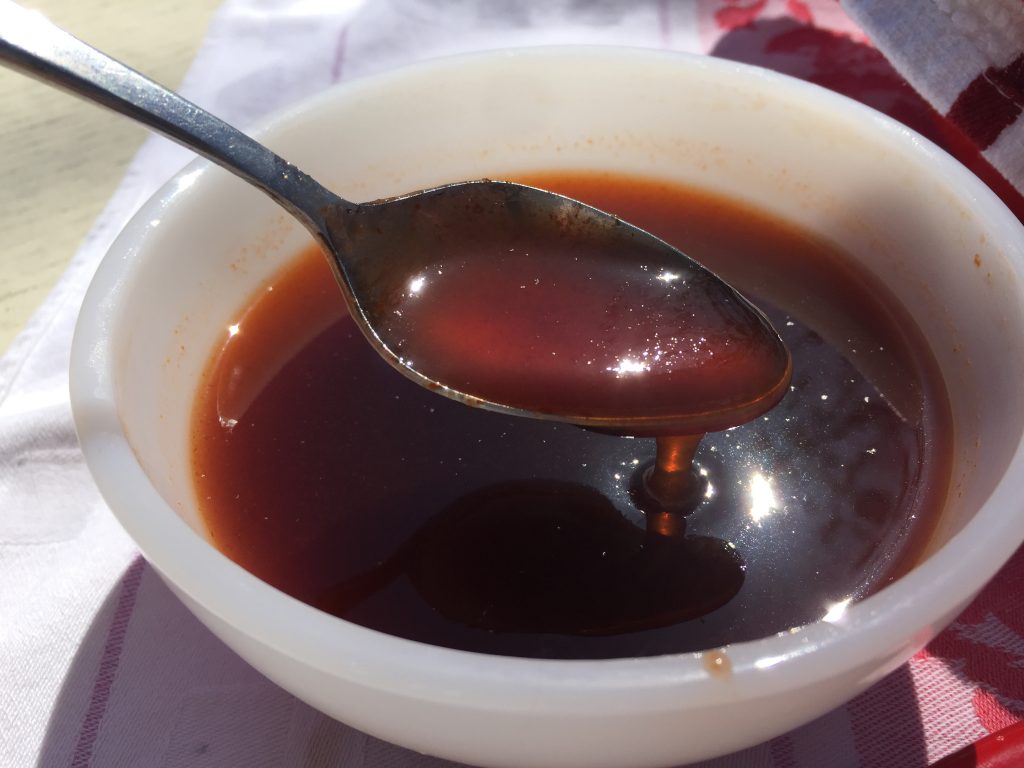 PS: If you're wondering why my waffles look funny, it's because I made them in a panini maker. We didn't have a waffle maker while on vacation (where I made this dish), so we made due with what we had. I wouldn't recommend this trick–it made a heck of a mess–but it certainly didn't negatively affect the taste.
Looking a healthier chicken recipe? Try my Moist Roast Chicken, too.
Fried Chicken and Waffles with Sriracha Syrup
Ingredients
2 cups buttermilk
1 tbsp. salt
1 tbsp. black pepper
3 tsp. cayenne pepper
2 lbs. chicken wings, thighs, and drumsticks
1 cup flour
1 tsp. garlic powder
1/2 tsp. salt
1/2 tsp. black pepper
1 tsp. cayenne pepper
Vegetable oil, for frying
For waffles:
2 cups all-purpose flour
1 cup sugar
3½ tsp. baking powder
2 eggs, separated
1 cup whipping cream
1 cup butter, melted
1 tsp. vanilla
For syrup:
1/2 cup maple syrup
2 tbsp. Sriracha
Instructions
For chicken: In a large bowl, combine buttermilk, salt, pepper, and cayenne. Add chicken and coat. Refrigerate for at least 4 hours. Combine flour, garlic powder, salt, pepper, and cayenne a large plastic bag. Coat one piece of chicken at a time with the flour mix. Transfer to an aluminum foil-lined baking sheet. Simmer an inch of oil in a deep skillet. Fry the chicken, cooking until golden brown (160 degrees at the thickest part), about 10 minutes per side. Transfer cooked chicken to paper towel-lined baking sheet.
For waffles: In a bowl, combine flour, sugar, and baking powder. In another bowl, whisk egg yolks, then mix in half and half, butter, and vanilla. Add egg mix to flour mix. Beat egg whites until stiff peaks form; fold into batter. Bake in a waffle iron until golden brown. Makes about 10 waffles.
For syrup: Combine syrup and Sriracha.
https://www.cookingwithvinyl.com/fried-chicken-and-waffles-with-sriracha-syrup/
® Cooking with Vinyl (do not reproduce without permission)