The food: Growing up and developing a sophisticated palate is wonderful. Now that I'm 40, I love pâté, brussels sprouts, Chardonnay, and much more that I'd have hated as a child. Just because I now appreciate the finer things, however, doesn't mean I'm ready to eschew all of my lowbrow childhood favorites. No matter my age, I hope to always get a little giddy at the sight of marshmallowy crispy cereal treats. There's nothing farm-raised, organic, gluten-free, or vegan about them, but damn if they don't taste amazing. I'm pretty sure our moms made them for us because they were cheap, easy, and quick, but none of that matters to me now. I just love their balance of crispy and chewy, plus more sweetness than even my sweetest tooth can handle. Although kids are sure to love these triple chocolate rice crispy treats, I devised the recipe during a bout of PMS, so I'm certain women will also find some comfort in them.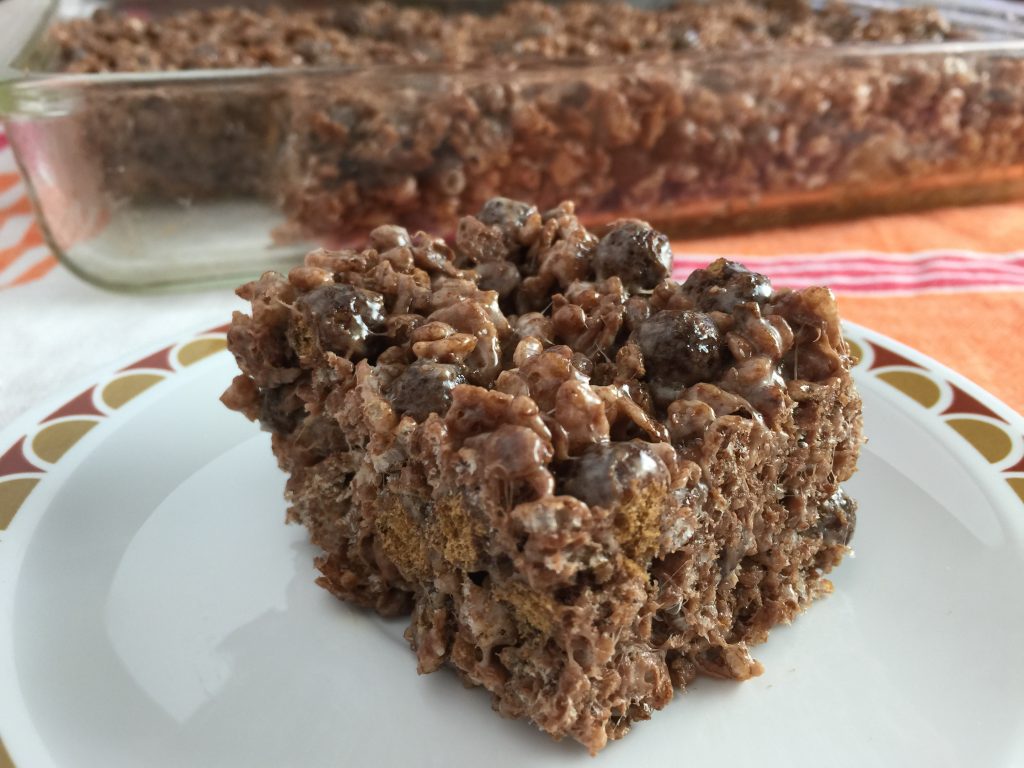 The music: Just as I don't think adults should apologize for enjoying silly treats from childhood, I find no shame in nostalgic music, even if it's as sugary and empty as these rice crispy bars. One of the first bands I remember liking on my own, without parental influence, was the Go-Go's. In 1982, when I was 7 years old, their songs were on heavy repeat on the radio. I remember asking my mom to pump up the volume first for "Our Lips are Sealed" and later "We Got the Beat," both from the band's debut album, "Beauty and the Beat." Their lyrics were shallow and their beats uncomplicated, but they were five chicks who wrote their own songs and played their own instruments at a time when that didn't happen (at least not to this level of success). They were also harbingers of the California Valley Girl style we all now associate with the 80s—teased hair, giant earrings, neon colors, sweatbands, etc. The Go-Go's weren't the most talented or politically important band, but they were a big influence on a lot of women of, ahem, a certain age. Go ahead and eat a sugary cereal bar while listening to a bubblegum band—and don't feel bad about it for one second!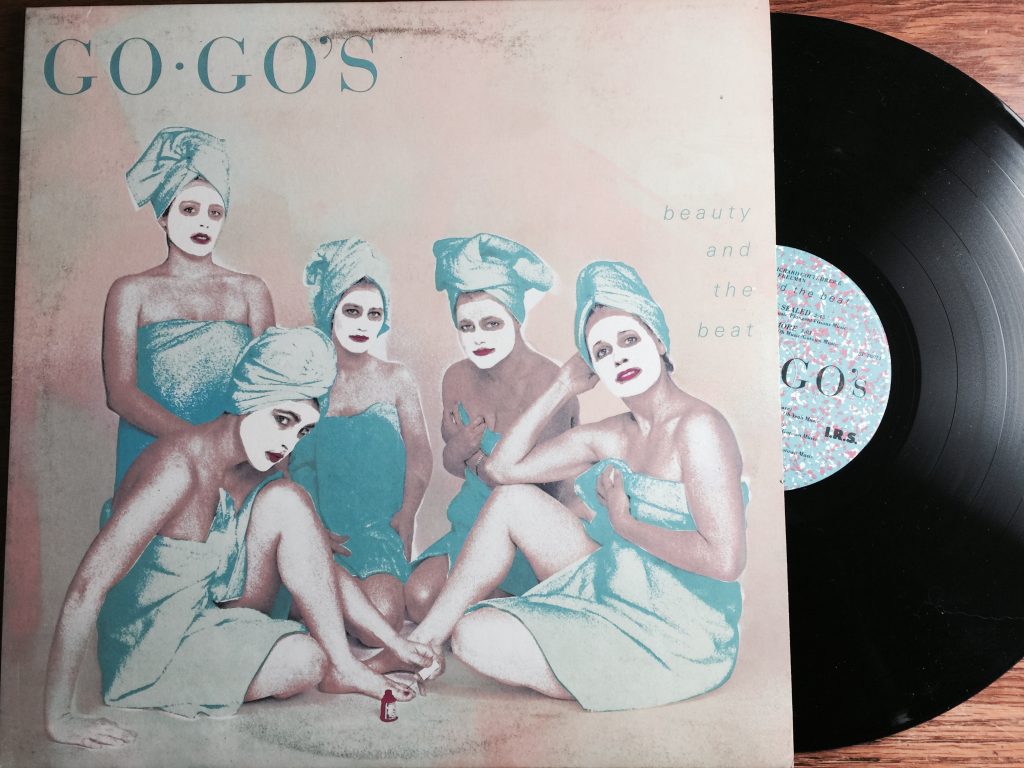 In case you're wondering, the stars of these triple chocolate rice crispy treats are two types of chocolate cereals (the usual crisped rice, plus a puffed variety) and chocolate chips (below). In addition to adding more layers of chocolate to the bars, the puff cereal adds big crunch and the chips contribute a smooth texture.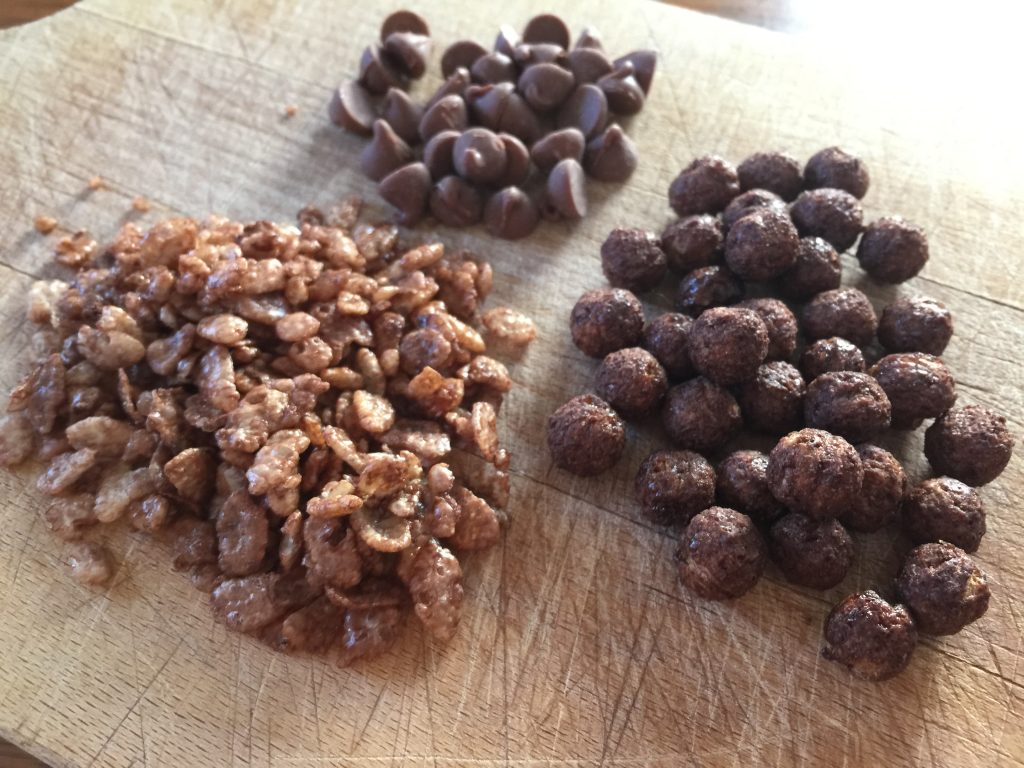 Love chocolate and 80s pairings? Try my recipe for Chocolate Chip Cookies, too.
Triple Chocolate Rice Crispy Treats
Ingredients
½ stick butter
1 tsp. vanilla
1 package (10 oz.) marshmallows
5 cups chocolate crisp rice cereal
2 cups chocolate puff cereal
½ cup milk chocolate chips
Instructions
In large saucepan, melt butter over low heat. Stir in vanilla. Add marshmallows and stir until completely melted. Remove from heat.
Add cereal and chocolate chips. Stir until well coated.
Using buttered spatula, evenly press mixture into 13x9x2 inch coated pan. Cool. Cut into 2-inch squares.
https://www.cookingwithvinyl.com/duet-triple-chocolate-crispy-treats/
® Cooking with Vinyl (do not reproduce without permission)