The food: Coconut is one of those foods that people tend to love or hate. As a child, I hated it. Now I love it. Sweet and crunchy coconut adds texture and depth of flavor to some of my favorite desserts. I think it's at its best in the sugary, nutty frosting used atop German Chocolate cake. Interesting fact: There's nothing German about the cake or topping—it's an American dessert made popular in the 1950s. The name is not a reference to the country, but to the man who created the dark baking chocolate used for the cake. Whatever its origins, I have a serious addiction, so I decided to create a twist on the tradition with this rich and creamy German Chocolate Tart. I'm also certain this frosting would be killer on my recipes for Chocolate Chip Brownies and Moist Chocolate Cake.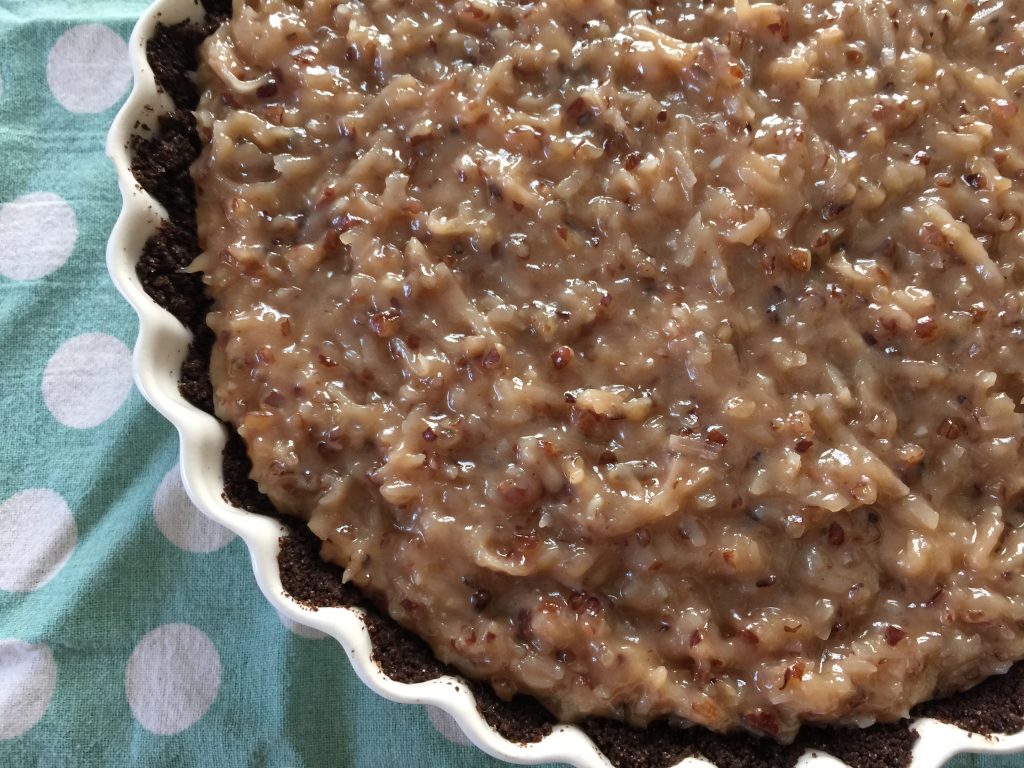 The music: This dessert is seriously rich, and it has great depth and many layers. Its musical match may be an odd one, but it somehow works. Buddy Miles was a rock and funk drummer and vocalist best known for being in Jimi Hendrix's Band of Gypsys. (Even if you don't realize it, you definitely know Buddy Miles—he was the lead vocalist for The California Raisins in the late 80s.) As a solo artist, Miles released about a dozen studio albums, including 1975's "More Miles Per Gallon." This soulful LP has nine songs that sound similar to Stevie Wonder's work from the same time, but with a harder edge. The souped-up rock sound comes from Buddy's killer work on drums and guitar, plus his fearless vocals that can swing from sweet to scowling. I only recently discovered Buddy, thanks to my boyfriend who is a fan, and I was sad to learn that he died in 2008 at age 60. Before he died, Buddy told a magazine that he wanted to be remembered as "the baddest of the bad." That's exactly how I think of the big guy below with the big smile and even bigger talent.
Hear some of my favorite songs from Buddy Miles on my "German Chocolate Tart" playlist on Spotify.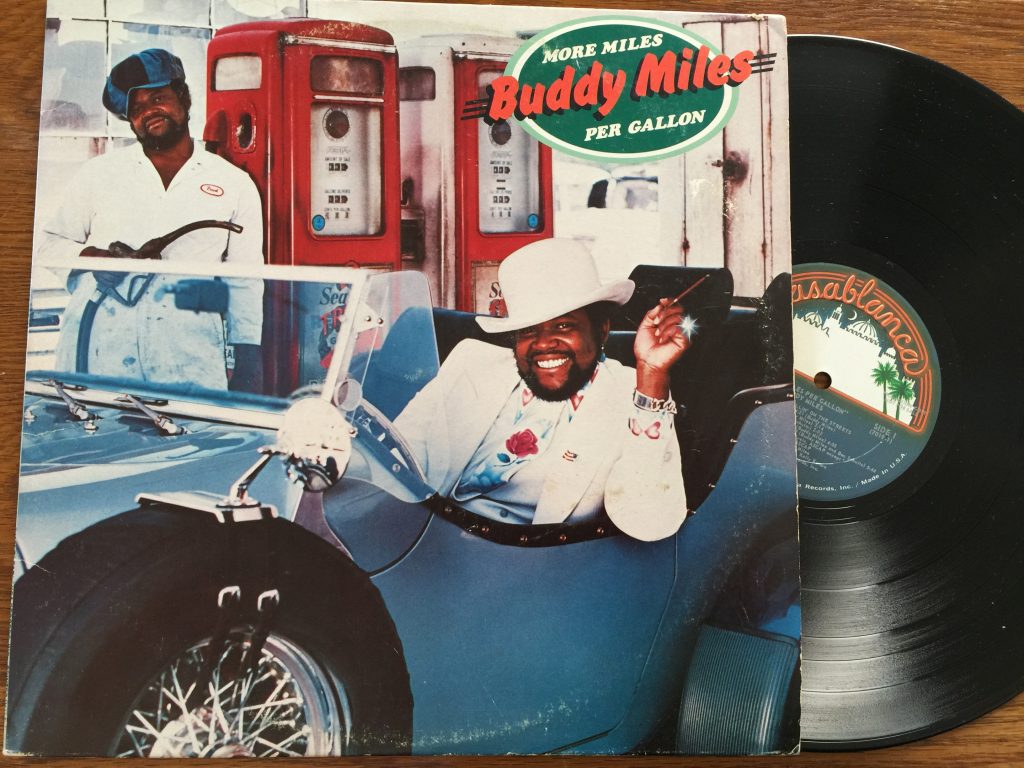 The base of this German Chocolate Tart is a butter and chocolate graham cracker crust. The middle is very rich bittersweet chocolate that is made smoother with cream and eggs. Finally, the top is crunchy, sugary coconut-pecan topping. The layers come together in a symphony of texture and sweetness. We enjoyed the dessert at room temperature, a few hours after I made it, but discovered it got much better after it sat in the refrigerator for a day or two.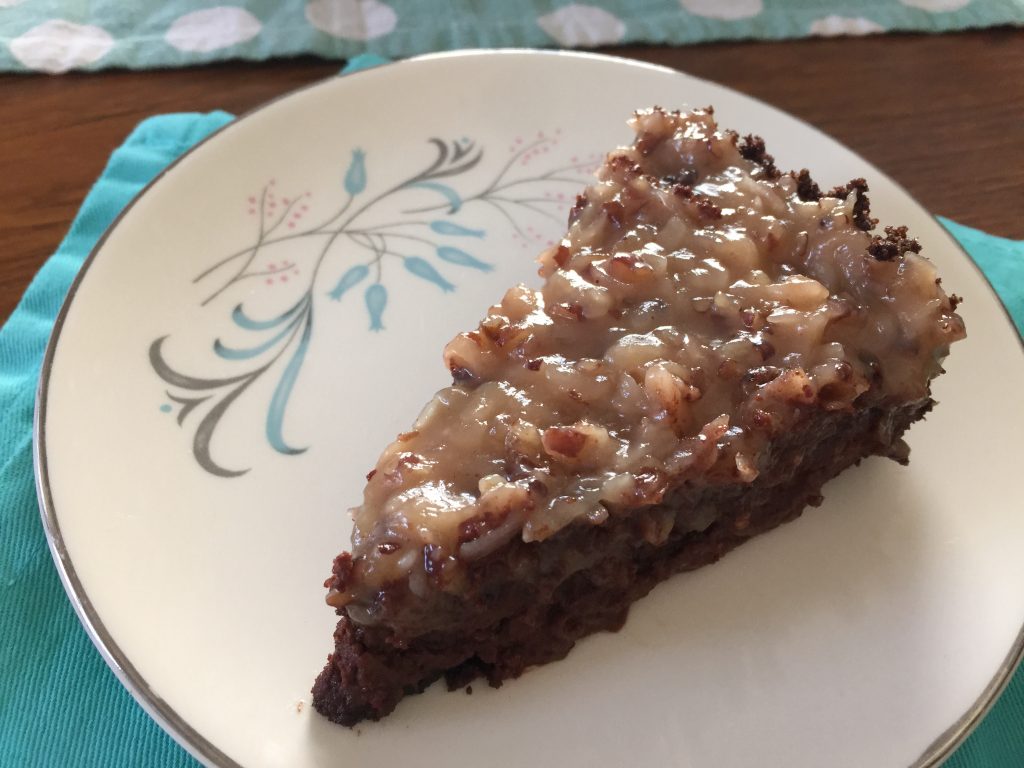 Love coconut? You'll definitely want to try my recipe for delectable Coconut Macaroon Pie, too.
Ingredients
For crust:
1 cup chocolate graham crackers
½ stick butter, melted
2 tbsp. sugar
For filling:
1 ¼ cups heavy cream
2 tbsp. butter
9 oz. bittersweet chocolate
2 eggs
1 tsp. vanilla
¼ tsp. salt
For frosting:
1 cup evaporated milk
1 cup granulated sugar
3 egg yolks, beaten
½ cup butter
1 tsp. vanilla
1 cup chopped pecans
1 1/2 cup coconut
Instructions
Preheat oven to 350 degrees.
For crust: Combine all crust ingredients and press into bottom and sides of tart ban. Bake 10 minutes. Cool on a rack.
For filling: Bring cream to simmer. Add butter, and stir until melted. Add chocolate, one square at a time until melted and mixed. Let stand 5 minutes. Whisk eggs, vanilla, and salt in a small bowl. Stir into chocolate. Pour filling into crust. Bake until edges are firm but center jiggles, about 20 minutes. Cool for 1 hour.
For the frosting: In a large saucepan, melt butter over low heat. Add milk, sugar, yolks, and vanilla. Stir constantly until thick. Remove from heat and stir in pecans and coconut. Let cool to room temperature before spreading on tart.
https://www.cookingwithvinyl.com/german-chocolate-tart/
® Cooking with Vinyl (do not reproduce without permission)