The food: I am new to seafood. After being a strict vegetarian for most of my life, I returned to my carnivorous roots about 5 years ago. While I took to beef and chicken quickly, seafood remained on my no-way-José list. I was certain seafood was gross, an opinion based entirely on the fish sticks I ate as a child (there are no oceans near St. Louis!). After some prodding from my boyfriend, however, I started sampling various under-water proteins…and fell in love with quite a few. One of my favorites is shrimp, especially when it sits atop cheesy grits. It's the best of both worlds—the gluttonous starches of my Midwestern upbringing and the light, healthy seafood my adult self is growing to love.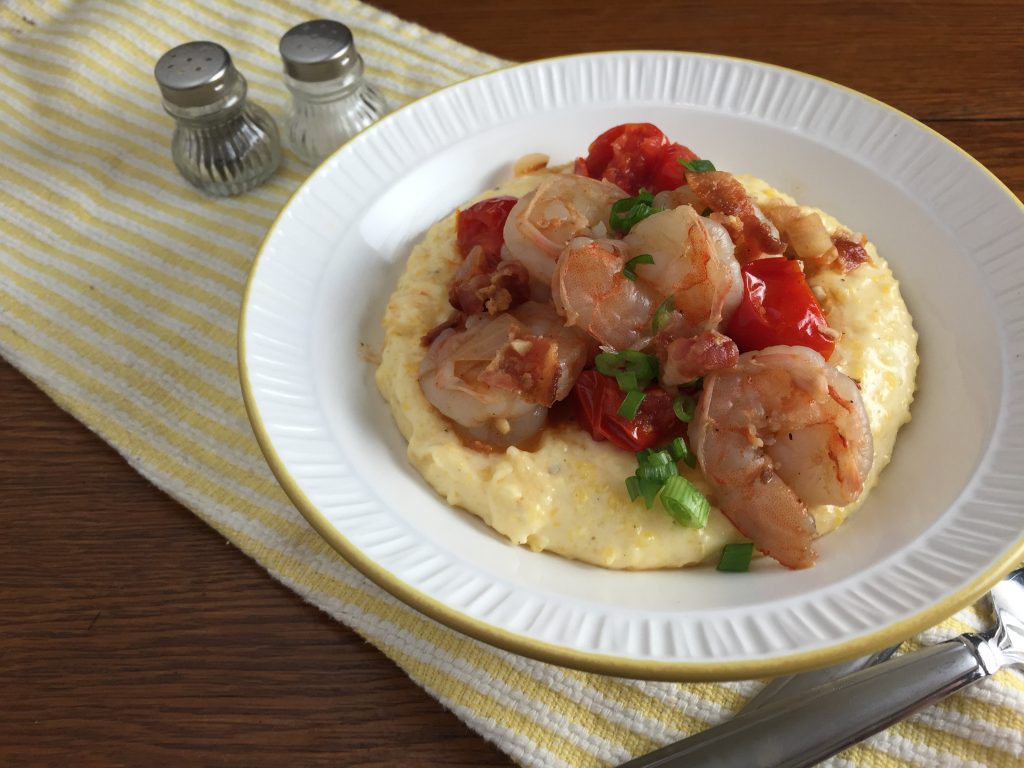 The music: It's funny, isn't it, that as grown ups we often come to appreciate things we resisted in our younger years? When I was a kid, I'd argue that whatever band I was currently obsessing over was as good as anything my mom's generation enjoyed. Like most people, I eventually came to my senses. For example, I finally realized the awesomeness of Fleetwood Mac (for that, I can probably thank Bill Clinton's use of "Don't Stop" in his 1992 campaign). Now I count "Rumours" as my favorite (non-Beatles) album. Released in 1977, this LP typically ranks high on best album lists, amazing considering this near-perfect record was recorded at the height of the band's interpersonal problems. Even the uninitiated will know some or most of the songs on this one, which include "Don't Stop," "Go Your Own Way," and "Gold Dust Woman." And even the most reserved will likely find themselves dancing and singing as they listen and cook.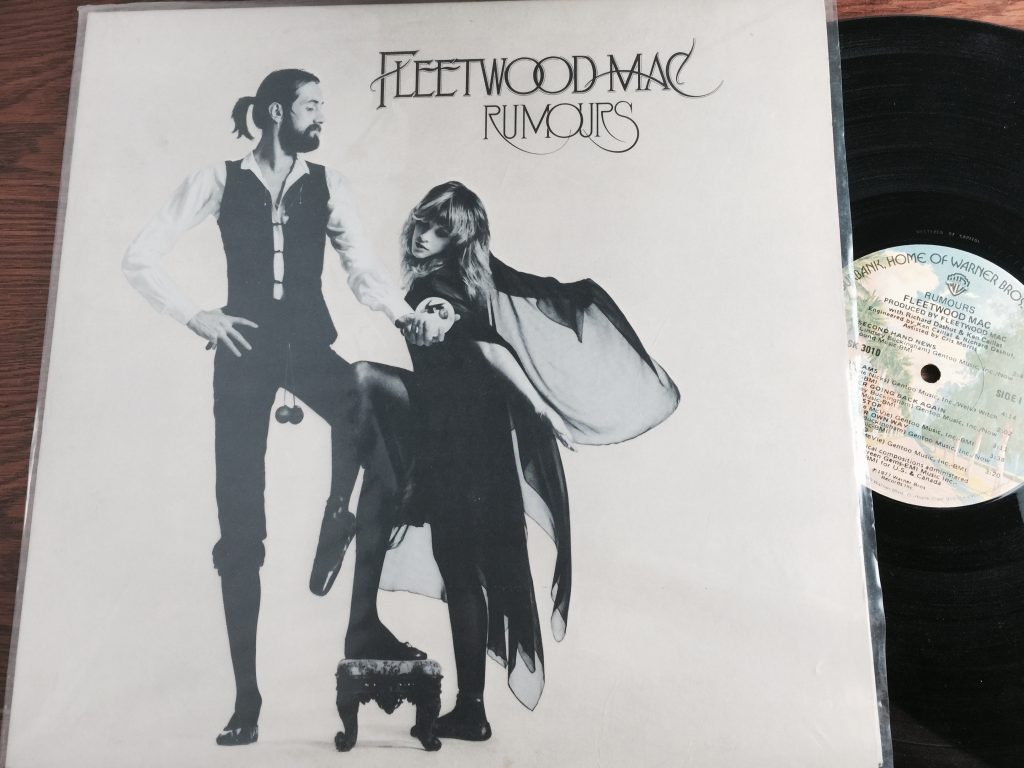 This easy dish comes together in about half an hour. The grits take a while to cook (but it's worth it because they are so much better than the gummy, flavorless instant kind), and you need to keep an eye on them so they don't burn or stick to the pot. The shrimp topping comes together quickly, and adds most of the flavor to the dish. Bacon, garlic, Sriracha, lemon, onion, and tomatoes punch up the shrimp, and the cheesy grits are a hearty, comforting base.
Love Southern food? Try my recipe for Sweet Cornbread in a Skillet, too.
Ingredients
For grits:
2 cups water
2 cups heavy cream
1 cup stone-ground grits
2 tbsp. butter
½ cup sharp cheddar cheese
½ cup fresh grated Parmesan cheese
½ tsp. salt
½ tsp. pepper
For shrimp:
5 slices bacon
1 small white onion, diced
2 garlic cloves, minced
1 lb. large shrimp, peeled and deveined
2 cups grape tomatoes, halved
½ lemon, juiced
2 tsp. Sriracha sauce
¼ tsp. salt
pinch pepper
2 green onion tops, sliced
Instructions
Add water and cream to medium pot over medium-high heat; bring to simmer. Add cornmeal slowly, whisking constantly to avoid clumps. Reduce heat to low, and cook about 30 minutes until smooth and thick (stir often to keep grits from sticking to the bottom of the pot). Remove from heat. Stir in butter, cheeses, salt and pepper.
While grits cook, cook bacon over medium heat in a large skillet. Remove bacon and chop. Drain all but 1 tbsp. of grease. Cook onion and garlic in drippings until onion is tender, about 2 minutes. Add shrimp and cook until done, about 2 minutes on each side. Add tomatoes, bacon, lemon juice, Sriracha, salt, and pepper; simmer 2 minutes to let flavors combine and tomatoes to soften.
Spoon grits into four bowls, top with equal amounts of shrimp mixture, and garnish with green onions. Serve immediately.
https://www.cookingwithvinyl.com/shrimp-and-grits/
® Cooking with Vinyl (do not reproduce without permission)