The food: Burgers are a staple around our house because they are cheap and easy. Eating the same-old plain Jane patty with a slice of cheddar and some ketchup, however, gets old after a while. After trying many gourmet burgers at restaurants, we decided it was time to get a bit more adventurous at home. On a lark, my boyfriend mixed some jalapeño pepper jelly in with ground chuck, and we were excited to discover it added a wonderful sweetness to the patty. The next time we grilled, we kicked up the flavor even more by topping the burgers with sweet caramelized onions and tangy Gorgonzola cheese. This is, simply put, a damn delicious burger. Damn. Delicious.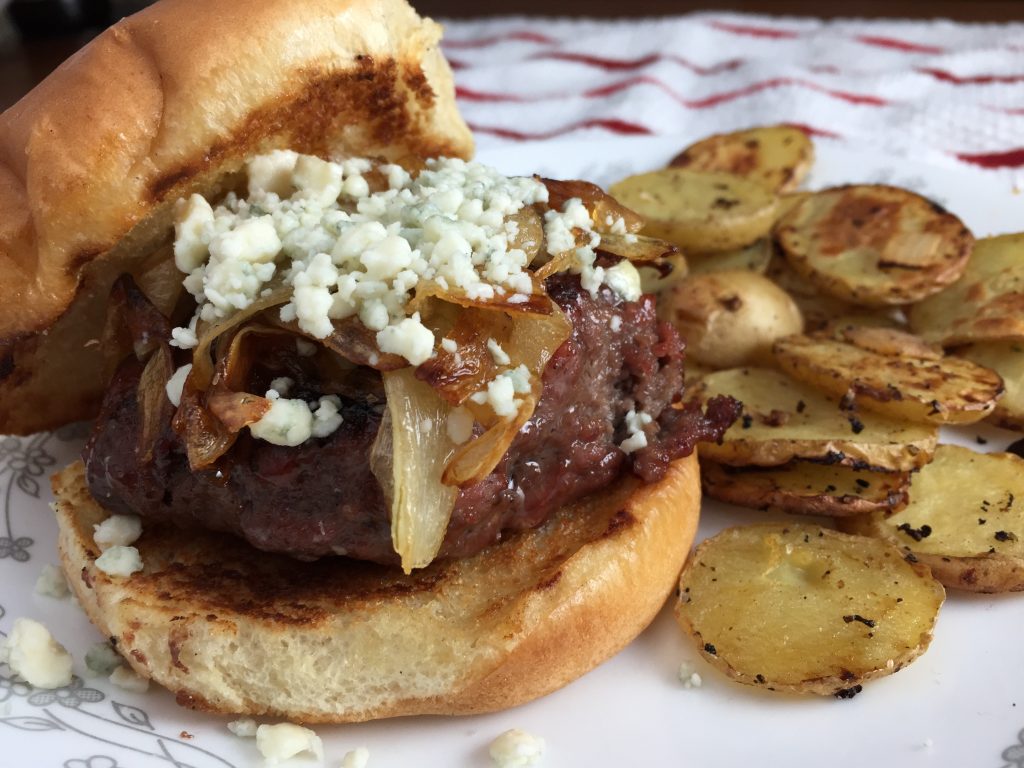 The music: When discussing artery-clogging burgers, it's pretty easy to draw a musical comparison to Elvis Presley, especially in his older, heavy-set years. Just as I think this jelly burger with caramelized onions and Gorgonzola is a burger at its best, I believe "As Recorded at Madison Square Garden" is Elvis' finest work. For the record, I'm much prefer leisure-suit Elvis to blue-jeans Young Elvis. That said, this 1972 live album is sure to please any Elvis fan. It has back-to-back hits, many pared down to one- to two-minute rockin' versions. His amped-up and breathless versions of everything from "Love Me Tender" to (my favorite) "Suspicious Minds" will make even the crabbiest person crack a toothy smile. Best of all, listen as Elvis thanks the band and gives this very funny shout out: "The guy that brings me my water and my scarves…his name is Charlie Hodge."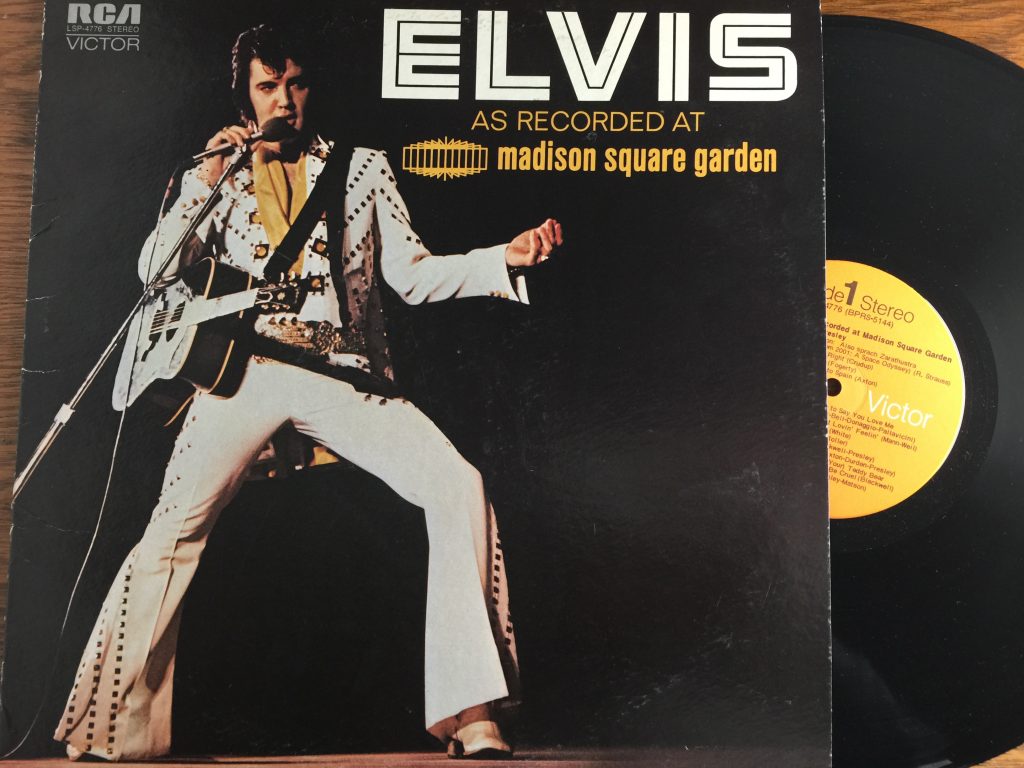 The depth of flavor in this burger is truly fantastic, from the sweetness of the jelly in the patty itself and in the tender onions to the pungent cheese. There are great textures at play, as well—the firm burger, melt-in-your mouth onions, creamy cheese, and equally crispy and soft grilled buns. Serve the burgers with a side of sliced and grilled Yukon Gold potatoes seasoned with salt, pepper, and garlic. It's a simple dinner that will please even sophisticated palates.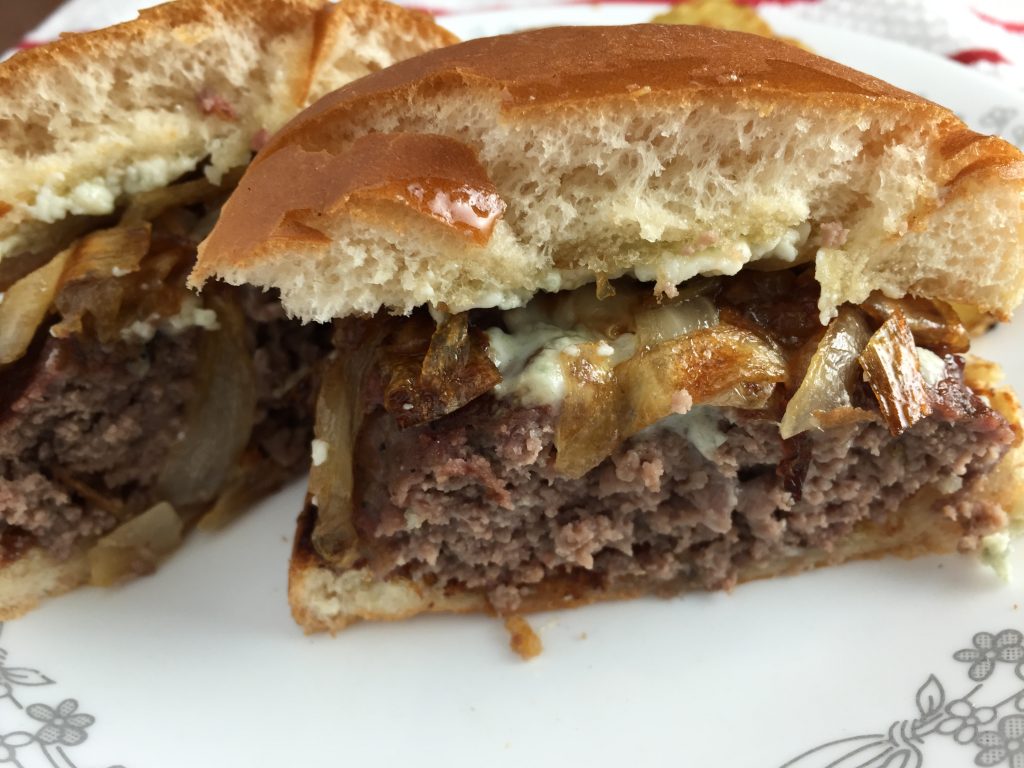 Love grilling? Try my recipes for Steak with Gorgonzola Butter or Spicy Shrimp Skewers, too.
Pepper Jam Burger with Caramelized Onions and Gorgonzola
Ingredients
1 lb. ground chuck
1/3 cup jalapeño jelly
Salt and pepper to taste
1 small white onion, sliced
1 tbsp. oil
Pinch of kosher salt
Pinch of granulated sugar
2 tbsp. Gorgonzola cheese
1 tsp. butter
Instructions
Light grill.
Mix jelly with ground chuck and season with salt and pepper to taste. Divide into four equal-size patties.
In a small skillet, cook onions in oil over low heat. Add kosher salt, sugar, and butter. Stir occasionally. Cook until brown and soft, about 30 to 40 minutes.
Grill burgers to desired heat.
Top each patty with an equal amount of onions and cheese. Serve immediately.
https://www.cookingwithvinyl.com/duet-burger-with-caramelized-onions-and-gorgonzola/
® Cooking with Vinyl (do not reproduce without permission)