This is the 50th post on Cooking With Vinyl, and this week marks the end of the blog's fourth full month. We're still small potatoes in the blog world, but 100-250 people visit the site every day. Wow! We're also closing in on 1,000 Facebook fans, and 500 followers on Pinterest, Twitter, and Instagram, and our first newsletter goes out tomorrow (sign up using the form to the right). I am humbled, and want to thank you for reading, whether you hang on my every word or are here for the first time. I'm so happy to share my passion for food and music with you. Now, on to today's recipe and record…
The food: I didn't discover grilled pizzas until last year. Man, I was missing out! You just throw the crust on the grill, flip it over after a few minutes, and load up your toppings before letting it cook long enough to melt the cheese. Easy. Grilling rather than baking makes for a super crisp crust and adds a great smoky flavor to the pie. Add some fun to your next backyard BBQ party by making it a DIY pizza event. Give each person her own personal size crust, set out a variety of sauces, cheeses, and toppings, and let your guests come up with a custom pie. We did this last summer and our friends thought we were geniuses!
The music: My normal Italian go-to is Dean Martin. To shake things up a bit with this recipe, I chose Ol' Blue Eyes, Frank Sinatra. The boozy tough-guy leader of the Rat Pack isn't my favorite crooner, but I can't deny his importance in American culture. He was nominated for two Oscars (he won one, Best Supporting Actor for From Here to Eternity) and four Emmys. He was given the Grammy Lifetime Achievement Award and the Presidential Medal of Freedom, the country's highest civilian award. Interesting tidbit: Frankie was married to four times, including to actresses Ava Gardner and Mia Farrow. His most successful album was "Come Dance With Me," which spent nearly three years on the Billboard charts. The 12 songs on this LP are a playground for Sinatra's beautiful baritone voice. Although Frank died of a heart attack in 1998 at age 82, he will forever be a part of America's cultural fabric.
Listen to Frank Sinatra's "Come Dance With Me" on my "Grilled Pizza" playlist on Spotify.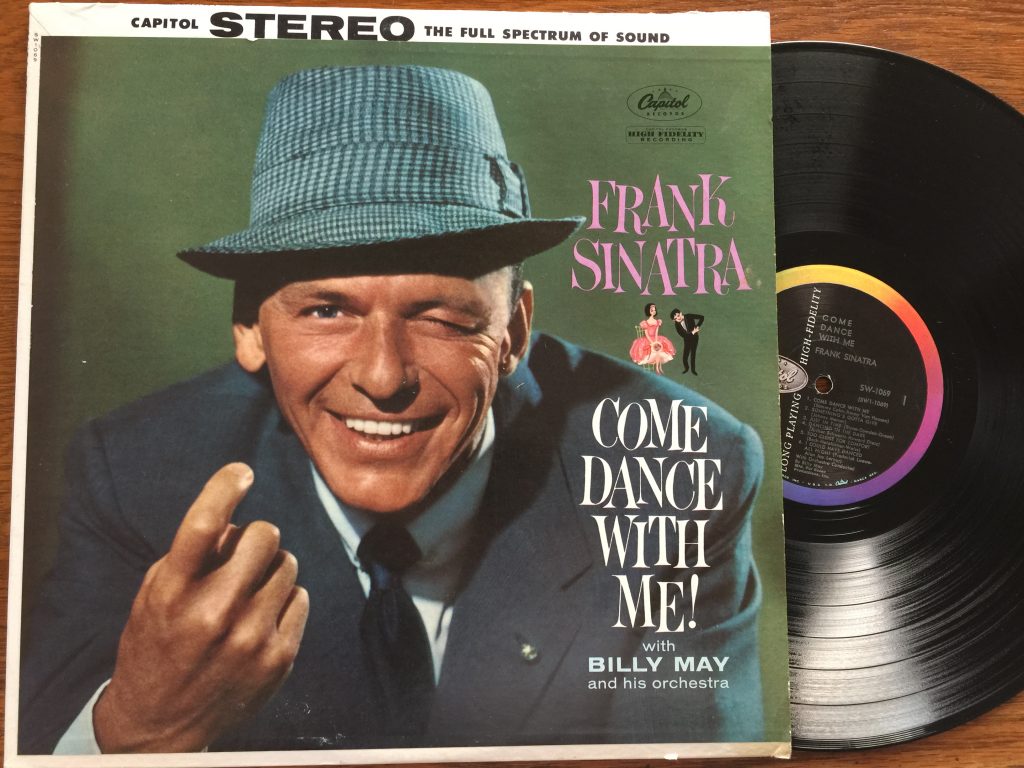 To make your grilled pizzas, carefully lay the personal-size crusts on the grill (below top left) and have the sauce and toppings at the ready. After about three minutes, flip the crusts (they should  have a nice crisp and some grill marks) and add the sauce (below top right), and then quickly lay out the mozzarella, tomatoes, pancetta, gorgonzola, and figs (below bottom left). Cover the grill until the cheese melts, about three minutes. Then add the spinach (below bottom right) and cover again for about two more minutes until it wilts. The final step is to drizzle the entire thing with balsamic glaze.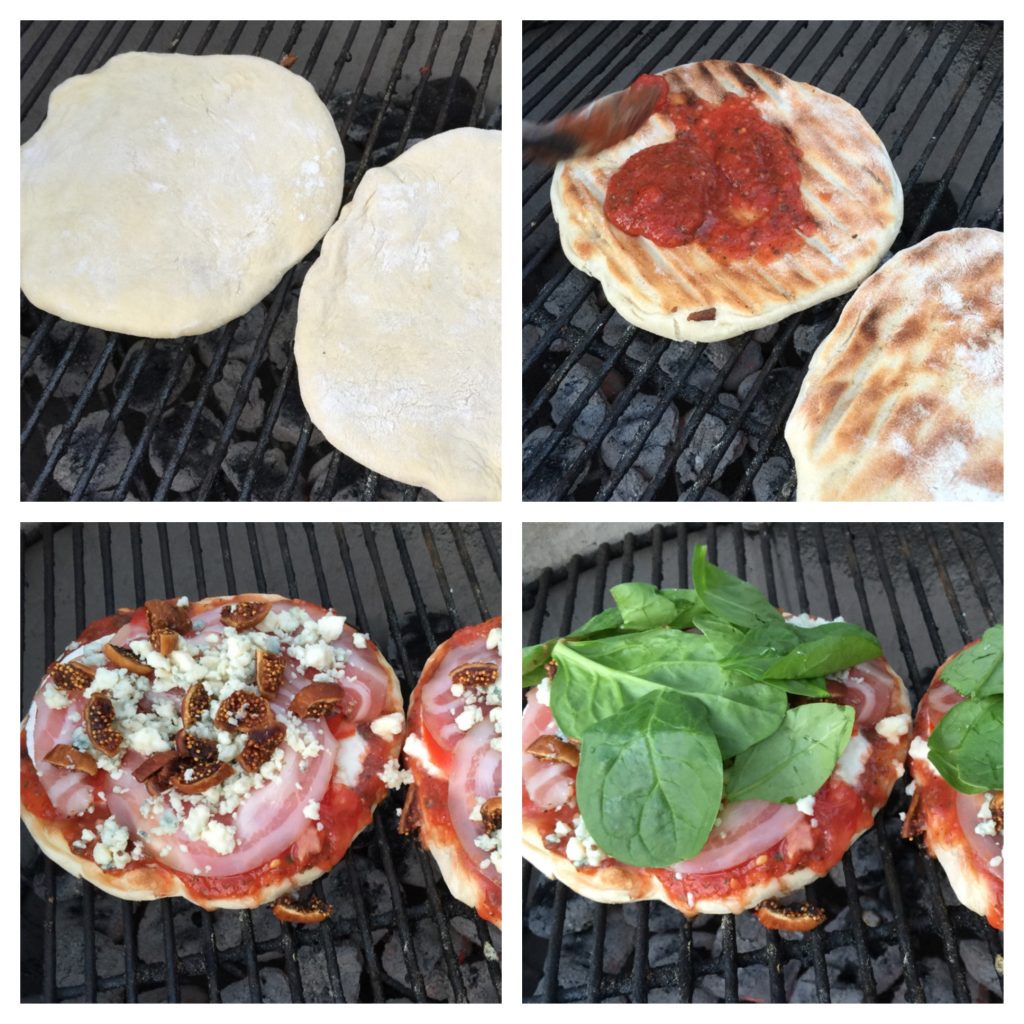 This grilled pizza has a perfectly crunchy crust, sweet sauce, and gooey cheese. The pork lends a salty flavor, the figs add sweetness, the Gorgonzola gives some tang, the tomatoes offer a burst of juiciness, the spinach imparts earthiness, and the balsamic glaze supplies acidity. This is a pizza with serious depth of flavor.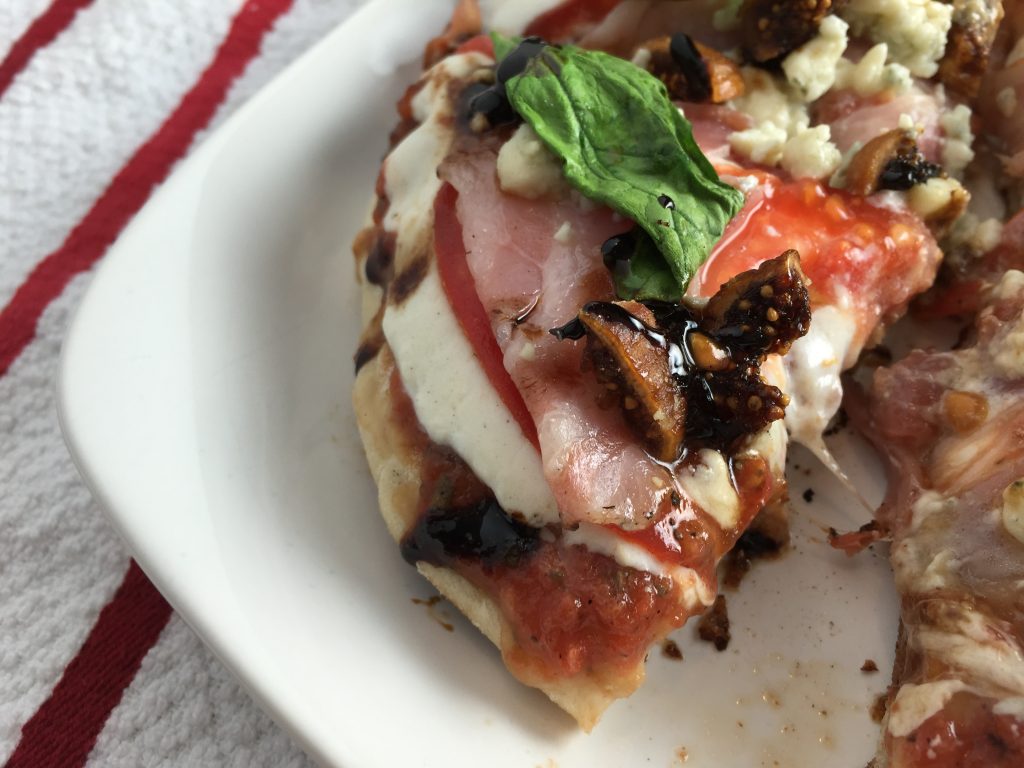 Looking for more summer grilling recipes? Try my Spicy Grilled Shrimp Skewers and Pepper Jam Burger, too.
Ingredients
3 cups flour, sifted
1 tbsp. baking powder
¼ cup sugar
1 tsp. salt
12 oz. beer, room temperature
2 tbsp. butter, melted
Instructions
Preheat oven to 375 degrees.
Grease a 9x5x3-inch loaf pan and set aside.
In a large bowl, combine dry ingredients. Add the beer quickly and combine ingredients; the battery will be sticky and lumpy.
Pour batter into loaf pan. Brush the top with butter.
Bake 35-40 minutes, until bread is golden brown and a toothpick inserted in the center comes out clean. Let cool in the pan for 10 minutes, then transfer onto a rack to cool completely before slicing.
Store in an airtight container.
https://www.cookingwithvinyl.com/duet-grilled-fig-and-pancetta-pizza/

® Cooking with Vinyl (do not reproduce without permission)